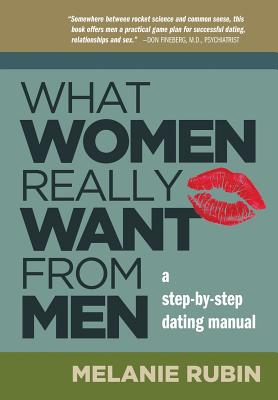 What Women Really Want from Men (Paperback)
A Step-By-Step Dating Manual
Melanie Rubin, 9781944241025, 358pp.
Publication Date: November 6, 2015
Other Editions of This Title:
Paperback (1/31/2018)
Paperback (1/31/2018)
Hardcover (2/6/2015)
Paperback (2/2/2015)
* Individual store prices may vary.
Description
What Women Really Want from Men: A Step-by-Step Dating Manual is for you if you're a smart, straight man who'd like to find, have fabulous sex with, and establish an ongoing relationship with an attractive woman you enjoy and respect. Maybe along the way you'd like to spend time with other great women, whether you get into a relationship with them, or just become friends. And maybe eventually you'd like to create a long-term, committed relationship with someone you love and who loves you.
What Women Really Want from Men is also very helpful for women who want to clarify for themselves their own needs when they are dating, and better understand the men they date.
This book is about helping you get the results you want: quickly, simply, with the most fun and the least stress.
What Women Really Want from Men focuses on heterosexual relationships, although the author hopes people of other sexual preferences and gender orientations will find useful information or entertainment in this book.
Why a step-by-step book for men, written by a woman, about how to date successfully?
You might be skeptical about a woman telling you what to do when you're dating. In general, you might prefer to figure things out and solve them for yourself, and not have a woman, or anyone else, tell you what to do. Understood.
And what if you've struggled in the dating process and it's been frustrating, confusing, or even painful? Maybe it's taken more of your time - and money - than you'd like, without producing the desired results. Perhaps you dated a really hot woman, or women, but there wasn't much else about the relationship or relationships that worked. Maybe you found someone who seemed "compatible" with your life or interests, but the chemistry wasn't there. Or what if you got involved and thought it could work out well, only to have it end suddenly in a way that was confusing? Maybe you find yourself saying, "I just don't understand what women want...."
A woman can tell you what other women think and feel during dating, so that you will understand what is going on "behind the scenes," which will help you be successful when you're dating.
The book is divided into the following sections:
Section One: Preparing to Date
Section Two: Step-by-step Success During Dating
Section Three: Mastery Topics