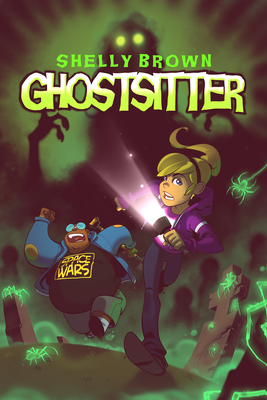 Ghostsitter (Hardcover)
Future House Publishing, 9781944452001, 262pp.
Publication Date: October 1, 2016
* Individual store prices may vary.
Description
"Part Ghostbusters, part Sherlock Holmes, all fun and excitement." —J. Scott Savage, author of the Case File 13 series and Mysteries of Cove series


Tiffany Hart dreams of one thing: to be class president. 
However, dreams turn to nightmares when she ends up almost dead in an abandoned building and develops the oh-so-awful gift of ghost-seeing. Unfortunately, Tiffany only knows one person who can help her shake her ghoulish problem, her neighbor and the weirdest boy at school, Justin Henderson.
Justin has seen ghosts since he was nine, a creepy claim that has earned him the privilege of eating lunch by himself for years. Together they start to unravel a mystery with dead orphans, a white witch, and phantom spiders. To save their lives (and the afterlives of innocent children), they must face a terrifying specter as well as a ghastly woman who isn't afraid of hurting kids, dead or alive. Can Tiffany win the school election and solve her ghost problems?


"Ghostsitter is one of those rare books that succeeds at being both hilarious and freaky! Like a phantom spider, it snuck up on me and left me genuinely creeped out." —Frank L. Cole, author of The Afterlife Academy

"I've never read a ghost story I've loved more than Ghostsitter . . . [It] is the kind of book that will make kids want to read with a flashlight under the covers long after they should be sleeping." —Peggy Eddleman, author of the Sky Jumpers series
About the Author
Shelly Brown is a substitute teacher and a mother of five children. She lives in Fruit Heights, Utah. In her spare time she helps her husband, author Chad Morris write awesome children's books.
Praise For Ghostsitter…
"Part Ghostbusters, part Sherlock Holmes, all fun and excitement."
J. Scott Savage, author of the Case File 13 series and Mysteries of Cove series
"Ghostsitter is one of those rare books that succeeds at being both hilarious and freaky! Like a phantom spider, it snuck up on me and left me genuinely creeped out."
Frank L. Cole, author of The Afterlife Academy
"I've never read a ghost story I've loved more than Ghostsitter . . . [It] is the kind of book that will make kids want to read with a flashlight under the covers long after they should be sleeping."
Peggy Eddleman, author of the Sky Jumpers series
or
Not Currently Available for Direct Purchase