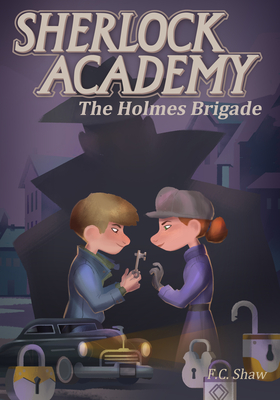 Sherlock Academy
The Holmes Brigade (Sherlock Academy Series)
Hardcover

* Individual store prices may vary.
Description
Coded clues, midnight escapades, secret societies…

These and more await Rollie Wilson as he enjoys his Christmas vacation from Sherlock Academy of Fine Sleuths. While Rollie's school is on break, the mysteries surrounding the elusive Herr Zilch continue. Rollie, Cecily, and their detective comrades discover a prowler has sneaked into Zilch's empty mansion that is filled with secrets of Zilch's evil schemes. 

As the mysteries and dangers increase, Rollie and his friends' safety is threatened. Will Herr Zilch come after the young sleuths? Will Rollie uncover the secrets within the mansion? Can Rollie and his comrades stop Zilch before he destroys the Academy? 
Praise For Sherlock Academy: The Holmes Brigade (Sherlock Academy Series)…
"For everyone who's ever wanted to be Sherlock Holmes, this is your chance."
- Adam Glendon Sidwell, bestselling author of Evertaster

"Is it too late for me to enroll at the Sherlock Academy of Fine Sleuths? I adore this series, and The Holmes Brigade feels as if Trenton Lee Stewart and Eoin Colfer have teamed up to write the perfect homage to my favorite fictional detective. F.C. Shaw is marvelous."
- Charles Finch, bestselling author of theCharles Lenox Mysteries​
"I loved everything about these books! The characters, the plot, the mystery, the action, the school, the writing style . . . everything is wonderful!
Rollie is an excellent main character. He's smart and observant, and he wants to be just like Sherlock Holmes. I really identified with his thought process and his emotions and excitement in the middle of a mystery.
I loved the easy friendship between Rollie and Cecily. They are great friends, and it really shows in their banter and camaraderie. I loved how they nickname each other 'Holmes' and 'Watson.'
The writing style is excellent, drawing the reader into the story. The plot leaves little foreshadowing clues all over the place for the reader to wonder over until the mystery is revealed. I love the puzzles and codes, and the plot kept me interested right to the very end."  —Kailey Bradley, Books for MKs
Future House Publishing, 9781944452209, 261pp.
Publication Date: October 1, 2016
About the Author
F.C. Shaw grew up with stories. First she had them told to her, and read to her. Then she read them for herself and discovered the magic therein. She is on a mission to help others discover the magic unlocked by reading a book, so has set forth to write her own stories. When she is not dreaming up and writing new stories, she tours the country sharing her books with kids. With a Master's Degree and Teaching Credential, she has taught everything from Kindergarten to college. She lives with her husband and two sons in California.
or
Not Currently Available for Direct Purchase