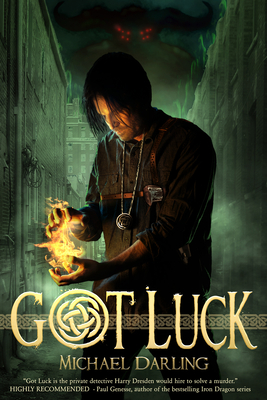 Got Luck (Paperback)
Future House Publishing, 9781944452995, 330pp.
Publication Date: October 1, 2016
* Individual store prices may vary.
Description
"Got Luck checks off all my 'must haves' for a gritty detective story. If I ever ran into a problem the local cops couldn't solve, I'd be lucky to have Got on my side--and so would you." --Ali Cross, author of the Desolation series

Police-officer-turned-private-investigator Goethe "Got" Luck is known for rolling with the punches and never taking anything too seriously. When he picks up a seemingly dead-end murder case, his life begins to take a crazy turn. Shot at, chased by people he has never met, and attacked by an invisible liondog, Got quickly learns that there is more to this world than meets the eye.

He discovers the Fae. The Eternals. They who dwell in the Behindbeyond. Once, they ruled over ancient realms, but over the centuries, their power dwindled. Now someone wants to restore their rule and subjugate humankind. All it will cost is thousands of human lives.

The clock is ticking. Getting the world out of this one will take a couple friends, more than a few well-placed insults, and a whole lot of Luck.

"Got Luck is the private detective Harry Dresden would hire to solve a murder. HIGHLY RECOMMENDED" --Paul Genesse, author of the bestselling Iron Dragon series

"Witty and charming, Got Luck is an enchanting nod to a detective noir." --Candance Thomas, author of the Vivatera series
About the Author
Michael Darling graduated from Weber State University with a degree in English literature. Michael's award-winning short fiction is featured in numerous anthologies, including Old Scratch and Owl Hoots and Secrets and Doors. He currently lives in the Rocky Mountains with his wife.
or
Not Currently Available for Direct Purchase