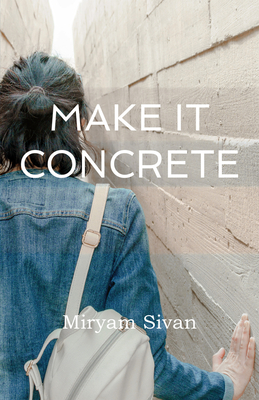 Make It Concrete
Paperback

* Individual store prices may vary.
Description
"Pages, Isabel, I need pages."
Isabel Toledo's publisher is getting impatient. An American living in the Galilee, Isabel has been telling other people's stories for twenty years – as a ghostwriter for Holocaust survivors. But her latest project has bogged her down in a way no other has. Barking dogs, a clerk asking for her papers, a shadowy figure glimpsed in the streets of Prague. The stories are slipping out of her control, collapsing boundaries between past and present.
Isabel has two grown daughters and a seven-year-old son to keep her grounded. She has an official boyfriend who wants to be more than that, a young lover who understands her demons, and another man on the side in Prague. But the temporary relief she finds in their arms is not enough to keep the ghosts at bay.  
And the story she most wants to uncover, her own mother's ordeal, defies all efforts to be brought to light. Why won't her mother share her story? Why has her father's story, which was never even on Isabel's radar, inserted itself unwanted into her life? Isabel wants concrete realities. She needs to slam the brakes on using the Holocaust as her measuring stick in the world.
Praise For Make It Concrete…
"... crackling with authentic life—her characters are full and deep, brimming with pathos and eccentricity. And while the traumatic legacy of the Holocaust is well-traversed terrain, Sivan forges a refreshingly original path of her own." — Kirkus Reviews

"A deftly crafted novel of multilayered complexity, Make It Concrete showcases author Miryam Sivan's genuine flair for an impressively original and a reader engaging narrative storytelling style. An inherently fascinating read." — Midwest Book Review, "Small Press Bookwatch"

"Only when Isabel finally learns the truth about her mother's past will she be able to... move forward. It is a conclusion that brings home the multigenerational effect of trauma and the ways it can be overcome." — New York Journal of Books
Cuidono Press, 9781944453084, 232pp.
Publication Date: April 9, 2019
About the Author
Miryam Sivan is a former New Yorker who has lived in Israel for more than twenty years. She teaches literature and writing at the University of Haifa and has published scholarly articles and a book length study of Cynthia Ozick's fiction, Belonging Too Well (SUNY, 2009). Much of her fiction is about the experiences of ex-pats in love, in flux, in the liminal space between cultures, languages, and historical epochs. Her short fiction has appeared in various journals in the US and UK. A collection, SNAFU and Other Stories, was published in 2014 (Cuidono Press).