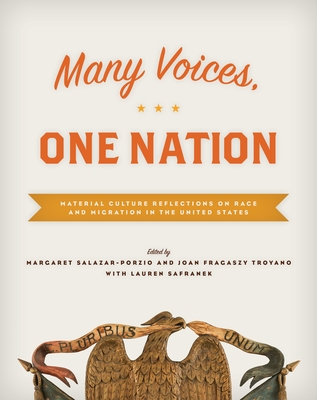 Many Voices, One Nation
Material Culture Reflections on Race and Migration in the United States
Hardcover

* Individual store prices may vary.
Description
Many Voices, One Nation explores U.S. history through a powerful collection of artifacts and stories from America's many peoples. Sixteen essays, composed by Smithsonian curators and affiliated scholars, offer distinctive insight into the peopling of the United States from the Europeans' North American arrival in 1492 to the near present. Each chapter addresses a different historical era and considers what quintessentially American ideals like freedom, equality, and belonging have meant to Americans of all backgrounds, races, and national origins through the centuries.
Much more than just an anthology, this book is a vibrant, cohesive presentation of everyday objects and ideas that connect us to our history and to one another. Using these objects and personal stories as a transmitter, the book invites readers to hear the voices of our many voices, and contemplate the complexity of our one nation. The stories and artifacts included in this volume bring our seemingly disparate pasts together to inspire possibilities for a shared future as we constantly reinterpret our e pluribus unum – our nation of many voices.
Smithsonian Institution Scholarly Press, 9781944466091, 306pp.
Publication Date: May 30, 2017
About the Author
Margaret Salazar-Porzio is Curator of Latina/o history and culture at the Smithsonian's National Museum of American History and a specialist in twentieth-century visual and material culture of the Western United States, Pacific Rim, and Mexico. Formerly an Associate Research Scholar at the Center for Institutional and Social Change at Columbia University Law School, she has received numerous research fellowships. Salazar-Porzio was also a primary education teacher in Los Angeles, California, where she received a local Teacher of the Year award (2004). 

Joan Fragaszy Troyano is Mellon/ACLS Public Fellow at the Smithsonian Institution and a member of the Many Voices, One Nation curatorial team at the National Museum of American History. A historian of immigration, visual culture, and public understandings of the past, her public history career includes museum exhibitions and education across the Smithsonian, as well as scholarly communication and digital projects with the Roy Rosenzweig Center for History and New Media.

Lauren Safranek is a curatorial assistant at the Smithsonian's National Museum of American History for the Many Voices, One Nation exhibition. Her scholarly work focuses on material culture and storytelling around recent immigration to the United States, and her public history products include exhibition development and curation, educational materials, public outreach, and the award-winning citizenship education website, Preparing for the Oath. In 2012 she was a Goldman Sachs Junior Fellow at the National Museum of American History.
or
Not Currently Available for Direct Purchase