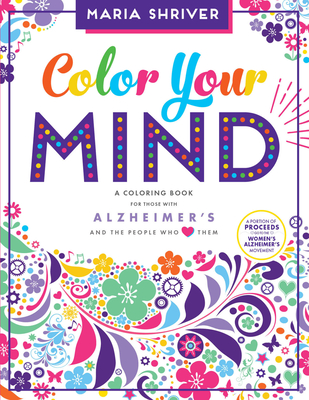 Color Your Mind
A Coloring Book for Those with Alzheimer's and the People Who Love Them
Paperback

* Individual store prices may vary.
Description
From bestselling author and Alzheimer's advocate Maria Shriver comes the first coloring book created for brain health and people with Alzheimer's.


This interactive coloring book is filled with inspiration and information that was developed in partnership with neurologists, psychologists, caregivers, and, of course, people with Alzheimer's. Each coloring page also features prompts to help people with Alzheimer's and their caregivers create, connect, and reflect. 


Color Your Mind combines coloring with useful brain health tips about:


   • Nutrition
   • Exercise
   • Social Connection
   • Sleep
   • ...and other valuable lessons for a fulfilling, balanced life.  

The activities, images, and approach in Color Your Mind were developed and refined through visits to nursing homes and memory care facilities. These visits and interactions also informed the selection of cheerful, inspiring coloring images throughout the book.
Praise For Color Your Mind: A Coloring Book for Those with Alzheimer's and the People Who Love Them…
"Out of the countless coloring books being sold today, 'Color Your Mind' is truly one of a kind."
-- the Today Show, NBC

"This coloring book fills an unmet need and it can facilitate meaningful time and interactions between people with Alzheimer's, their family members, and caregivers."
-- Dr. Richard Isaacson, Director of the Alzheimer's Prevention Clinic, Cornell Medical College

"The thought and work that has gone into it are very obvious. It's so important to find activities that can be engaging for family members and patients. It's very well done and I can see the care, concern and beauty coming through on this project!"
-- Robin Ketelle, Cognitive Psychology, Emotion, Developmental Psychology R.N., University of California, SF

I am very impressed with the layout of the book. The creative ideas, formats, and the simple yet captivating projects are adequate for the clients you are reaching out to. Color Your Mind allows for individual creativity and it also encourages care-givers and families to become involved. Bonding through coloring, drawing, music, crafting, laughing , as well as, a positive sense of humor provide an unthreatening atmosphere for dementia, or Alzheimer's patients to live, love and flourish."
-- Sister Conchessa Johnston, Director at Memory Care Center, University of The Incarnate Word
Blue Star Press, 9781944515485, 80pp.
Publication Date: June 4, 2017
About the Author
Maria Shriver: • Peabody and Emmy-winning journalist and producer • Six time New York Times best-selling author • NBC News Special Anchor reporting on the shifting roles, emerging power and evolving needs of women in modern life. Maria creates socially conscious television, books, films and digital media with the purpose of informing, inspiring and igniting hearts and minds in a discussion that produce positive impact in the world. Shriver's work is driven by her belief that all of us have the ability to be what she calls Architects of Change — people who see a problem in their own life or the community around them, then step out of their comfort zone and do what it takes to create the solution. Her website, MariaShriver.com, features life stories and life lessons from Architects of Change aimed at inspiring people to use their own ideas, influence and initiative to go out and make an impact on our world. Maria is one of the nation's leading advocates for families struggling with Alzheimer's disease. Her father, Sargent Shriver, was diagnosed with the disease in 2003 and passed away from it in 2011 at the age of 95. In 2009, Shriver co-executive produced the Emmy Award-winning four-part HBO documentary series called The Alzheimer's Project, which opened millions of people's eyes to the devastating disease. One of the films in the series, "Grandpa, Do you Know Who I Am?" was honored by the Academy of Television Arts & Sciences for exemplifying "television with a conscience" and was based on Shriver's best-selling children's book dealing with Alzheimer's. In 2009, Shriver testified before the U.S. Senate Special Committee on Aging to encourage Congress to make Alzheimer's a national legislative priority. Shriver's voice was instrumental in the December 2010 passage of the National Alzheimer's Project Act. In addition, Shriver serves on the advisory board of the Lou Ruvo Center for Brain Health in Las Vegas and continues to advocate for patients and families alike.
or
Not Currently Available for Direct Purchase