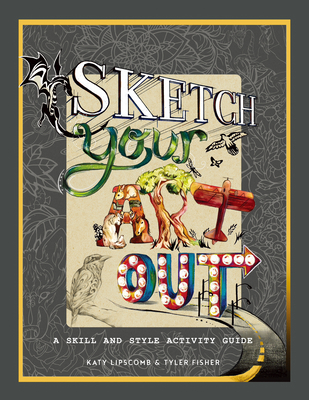 Sketch Your Art Out (Hardcover)
A Skill and Style Guide
Blue Star Press, 9781944515522, 176pp.
Publication Date: November 21, 2017
* Individual store prices may vary.
Description
Sketch Your Art Out: A Skill and Style Guide is an interactive art book for aspiring artists, students, and experienced artists alike.
Sketch Your Art Out teaches how to sketch using a number of mediums (graphite, pen+ink, colored pencil) to ultimately create a skill-set that can be applied to any medium, and includes insider tricks for how to create a viable business plan and successfully sell your art.
Topics covered include:
Sketching, Graphite, Colored Pencils, and Pen + Ink
How to Overcome Creative Block
How to Create an Art Business
Applications to Other Art Mediums
Sketch Your Art Out more than just basic drawing guide. It seeks to inspire artists to work and live off their art, whether their practice is a longtime passion or just a passing hobby. From teaching the basics of design, to navigating the increasingly digital world of art selling, master artists Katy Lipscomb and Tyler Fisher share their knowledge.
Subjects covered range from utilizing graphite, working through creative block, and designing a realistic and attainable business plan. With an interactive format, and a layflat binding perfect for sketching as you read along, Sketch Your Art Out encourages hands-on action to bring your artistic dreams to fruition. The coptic binding lends a unique look with an exposed, sewn spine that reflects the artistic design and functionality of this incredible book.
Product Details:
Printed on high quality sketchbook paper
95 lb premium paper ideal for all mediums
Large format 8.5" x 11" pages
Durable hardcover
Lay-flat binding