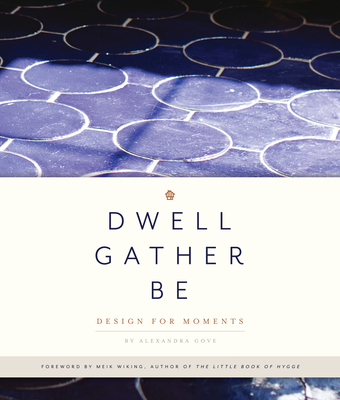 Dwell, Gather, Be (Hardcover)
Design for Moments
Blue Star Press, 9781944515607, 224pp.
Publication Date: September 24, 2019
* Individual store prices may vary.
Description
We need to understand and harness the impact our homes have on our happiness . . . What makes a home a happy one? I think Dwell, Gather, Be is part of the answer.

-Meik Wiking, Author of The Little Book of Hygge: The Danish Way to Live Well and CEO of the Happiness Research Institute in Copenhagen

In a world where perfectly designed homes are encountered at every turn, Dwell, Gather, Be goes deeper, exploring how thoughtful, intentional home design can cultivate meaningful moments in your life. Learn to elevate, celebrate, and value the time you spend with the people you hold dear in the space that is uniquely yours.

Dwell, Gather, Be shares inspiration and advice to:
* Design a home to reflect, complement, and enhance your lifestyle
* Create a welcoming environment for family and friends
* Cultivate special moments through timeless design
* Elevate and celebrate a rich, satisfying life <
About the Author
Alexandra Gove is the owner of Hygge Life, a lifestyle brand and Scandinavian-inspired home décor shop just west of Vail, Colorado. After living in Amsterdam and traveling around Europe for several years with her Dutch husband, she was inspired to bring hygge back to her home in the US. Alexandra was a hygge pioneer, bringing this Scandinavian lifestyle to the US in 2013, before the trend swept the country. She has a passion for interior design and creating a life and home with thought and intention. Alexandra and her husband, Koen, run their brick & mortar shop, café, and online store together. They also host a "Hygge Dinner" series where they gather people around the dining table for good food, drinks, connection, and an overall hyggelig experience. They dream of opening a small hotel where they can continue to share this cozy, intentional lifestyle. Hygge Life has been featured on Colorado Public Radio and in the Finding Hygge documentary, and in The New York Times, Dwell, and Real Simple, among other publications.