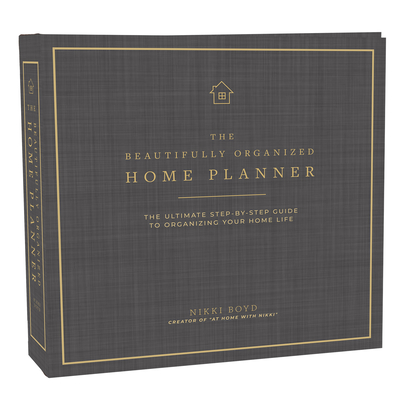 Beautifully Organized Home Planner (Hardcover)
The Ultimate Step-by-Step Guide to Organizing Your Home Life
Paige Tate & Co, 9781944515980, 210pp.
Publication Date: March 24, 2020
* Individual store prices may vary.
Description
Organize your life, family, and home using the essential tools, charts, and checklists in this beautiful linen-cover home organization planner!

Professional organizer and YouTube sensation Nikki Boyd (creator of "At Home With Nikki") wants to help you bring order into your home. In her first best-selling book, Beautifully Organized, Nikki shared her tested advice for how to create a home with function and style. Now, in this new home organization planner, Nikki provides the life-changing systems and tools she uses to run a more clean, organized, and efficient household -- all in a high-quality, linen-covered book with gold foil that will look beautiful on your coffee table or bookshelf.

The Beautifully Organized Home Planner includes:
• Home Management Essentials to keep your family and home running smoothly
• Daily, Monthly, and Spring Cleaning Checklists to stay on top of household chores
• Home Maintenance Schedules with seasonal to-do lists to keep everything inside and outside your home in working order
• File Organization Strategies to efficiently tackle clutter and safely store your most important documents
• School Worksheets to help your family stay organized through the academic year
• ... And so much more!

Using Nikki's proven tools and advice in this book, you and your family will soon be on your way to home organization success!
About the Author
Nikki Boyd is a wife and mother of three amazing kids who have all grown into beautiful adults. A long-time military spouse, her husband's career in the Air Force meant that their family traveled extensively. The experience of moving and setting up house many times over gave Nikki the opportunity to hone her organization skills, and she developed dozens of tips and tricks throughout the years. Following her husband's retirement, she and her family moved to a beautiful home in Charleston, South Carolina, where she is now able to pursue her own dreams. It is no surprise to her (or those closest to her!) that her passion is centered around organization. Nikki now runs her own professional organization firm, At Home with Nikki, in Summerville, South Carolina, and helps people to create beautifully organized spaces within their home and work environments.
Praise For Beautifully Organized Home Planner: The Ultimate Step-by-Step Guide to Organizing Your Home Life…
"Might hers rival the lifestyle brands of Stewart and Rachael Ray?"
-- Ebony Magazine

"If you run a household, this book is a must have. It has it all, from family meetings to chores, cleaning, filing, budgeting, home projects, and everything in between. Nikki has outdone herself, once again!"
--Toni Hammersley, author of The Complete Book of Home Organization and The Complete Book of Clean


"Nikki Boyd always offers the perfect combination of practical and elegant organization. Her new home planner does not disappoint. This planner is packed full of incredibly useful tools and resources to help you get your life organized, but it is also stunningly beautiful. A must have for organization."  -- Cassandra Aarssen, Author and founder/host of Clutterbug Youtube Channel

"Nikki goes so far beyond basic and prescriptive organizing - she goes deep to help readers cultivate a more rewarding home and family life through organizing. Her approach includes preparing readers mentally and emotionally for the tasks at hand and empowering readers to do this work - once and for all - by providing clear, step-by-step instructions. The result: a beautiful, organized and welcoming home. Her writing, like her personality, is charming and delightful. The book provides readers with new, simple to implement concepts and plans that don't feel overwhelming; rather, the thought of them incites excitement, hope and joy."
-- Melissa Maker, host of the CleanMySpace YouTube channel and founder of Clean My Space