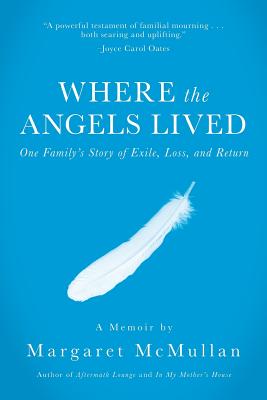 Where the Angels Lived
One Family's Story of Exile, Loss, and Return
Paperback

* Individual store prices may vary.
Description
The moment she discovers the existence of Richard, a long-lost relative, at Israel's Holocaust Museum, Margaret McMullan begins an unexpected journey of revelation and connectivity as she tirelessly researches the history of her ancestors, the Engel de J nosis. Propelled by a Fulbright cultural exchange that sends her to teach at a Hungarian University, Margaret, her husband and teenage son all eagerly travel to P cs, the land of her mother's Jewish lineage. After reaching P cs, a Hungarian town both small and primarily Christian, Margaret realizes right then and there how difficult her mission is going to be. Heart-wrenching, passionate and insightful, Where the Angels Lived by Margaret McMullan beautifully documents the relentless determination of a woman picking up the pieces of her family's fragmented history throughout the Hungarian Holocaust.
"The destruction of the Jews in the country districts of Hungary was a simple business. The Germans made good use of their experience gained annihilating between three to four million Polish, German and Austrian Jews."
In Where the Angels Lived, Margaret quickly discovers just how distinguished and influential her relatives appear to have been before the Holocaust. However, no one seems to recall the man whose name she saw that day in Israel: Richard Engel de J nosi. With the help of students, strangers, and long-lost relatives, Margaret slowly pieces together bits of information about Richard's past she never would have found without venturing to her family's homeland.
While Margaret's research starts to reap its own rewards, the road to discovery still comes at a price. Back in the United States, Margaret's father is sick and her mother is looking frailer every time they Skype. Despite her parents' deteriorating health, there is much more work to be done abroad.
"Remembering the dead, especially family members is important. I know this."
As Margaret struggles to discover why Richard's existence is wiped from P cs history, her journey soon becomes her mother's journey, a nation's journey, and even perhaps, all of our journeys to reconnect with an inexplicable past.
"Sitting there in the pew carved of Moravian oak, I start to shake. I curse every last Hungarian who deported or murdered my family. See? Look at me. My mother got out and she had me and I had a son. You didn't end us."
Historical, authentic and family-oriented, Where the Angels Lived tells the tale of a somewhat parallel universe that exists even in the 21st century--dealings with Soviet-style bureaucracy; skepticism; anti-Semitism; and ironically the same sort of isolation and rejection Margaret's Jewish Hungarian family experienced in 1944 before they were forced into concentration camps. Straddling memoir and reportage, past and present, this story reminds us all that we can escape a country, but we can never escape history.
Praise For Where the Angels Lived: One Family's Story of Exile, Loss, and Return…
Margaret McMullan has written a beautiful and heartrending account of her pilgrimage to Pecs, Hungary in the hope of retrieving what she can of the story of a distant (Jewish) relative, lost in the Holocaust. Written with her usual vividly realized, emotionally engaging prose, in which Margaret emerges as a protagonist with whom the reader identifies, Where the Angels Lived is a powerful testament of familial mourning as well as a vision of 20th century European history that is both searing and uplifting.
– Joyce Carol Oates


Calypso Editions, 9781944593087, 272pp.
Publication Date: May 1, 2019
About the Author
A recipient of a 2010 NEA Fellowship in literature, a 2010 Fulbright at the University of Pécs in Pécs, Hungary, and the National Author Winner of the 2011 Eugene and Marilyn Glick Indiana Authors Award, Margaret McMullan is the author of seven award-winning novels. In 2015, she and Phillip Lopate curated Every Father's Daughter, an anthology of essays about fathers by great women writers such as Alice Munro, Ann Hood, and Jane Smiley. She was the Melvin Peterson Endowed Chair in Literature and Creative Writing at the University of Evansville, where she taught for 25 years. Recently she served as a faculty mentor at the Stony Brook Southampton Low-res MFA Program. She writes full time now in Pass Christian, Mississippi.