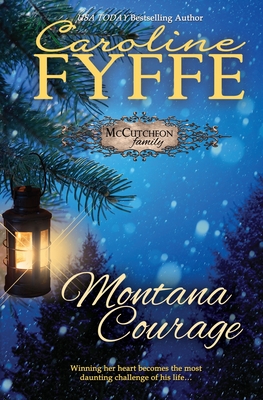 Montana Courage (Paperback)
Caroline Fyffe, 9781944617035, 384pp.
Publication Date: January 12, 2017
* Individual store prices may vary.
Description
USA Today bestselling author Caroline Fyffe is back with another epic tale of love and courage in the Montana Territory...MONTANA COURAGE - The McCutcheon Family Series, Book 9Y Knot, Montana Territory, 1887Shad Petty is a cowhand, plain and simple, whose days are filled with riding for the McCutcheon brand. There's no room in his life for a woman, let alone a female with obvious means who is completely out of his reach. Unfortunately, the candid Miss Ford captures his heart and his simple life is turned topsy-turvy from that point on. Pampered socialite Poppy Ford rarely listens to direction. Her father has indulged her every whim and she's been a dutiful daughter until now...when she decides to visit her sister in Y Knot without his permission. All too soon, Poppy learns the Montana wilderness is not Boston. She's thrust into danger of her own making and the results are a matter of life or death. When the roughhewn cowboy named Shad offers his help, she begins to see him in a different light. Can two such completely different people find love? Or will circumstances keep them apart? Montana Courage, Book 9 of the award-winning, western historical McCutcheon Family series, continues the lives of the McCutcheons as well as the homespun townsfolk of Y Knot, Montana.Read the entire McCutcheon Family saga in order: Montana Dawn Texas Twilight Mail-Order Brides of the West: Evie Mail-Order Brides of the West: Heather Moon Over MontanaMail-Order Brides of the West: Kathryn Montana Snowfall Texas LonesomeMontana Courage Watch for more McCutcheon Family novels to come..
About the Author
USA Today Bestselling Author Caroline Fyffe was born in Waco, Texas, the first of many towns she would call home during her father's career with the US Air Force. A horse aficionado from an early age, she earned a Bachelor of Arts in communications from California State University-Chico before launching what would become a twenty-year career as an equine photographer. She began writing fiction to pass the time during long days in the show arena, channeling her love of horses and the Old West into a series of Western historicals. Her debut novel, Where the Wind Blows, won the Romance Writers of America's prestigious Golden Heart Award as well as the Wisconsin RWA's Write Touch Readers' Award. She and her husband have two grown sons and live in the Pacific Northwest. Visit Caroline at www.carolinefyffe.com See her photographs at www.carolinefyffephoto.com Facebook Fan Page http: //tinyurl.com/ajaog39 Twitter @carolinefyffe Write to her at caroline@carolinefyffe.com. She loves hearing from readers!
or
Not Currently Available for Direct Purchase