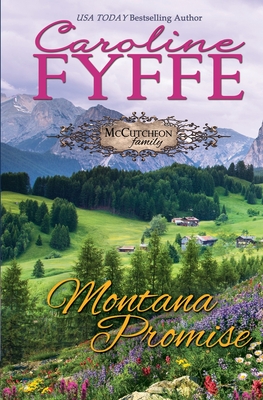 Montana Promise (Paperback)
Caroline Fyffe, 9781944617073, 328pp.
Publication Date: September 23, 2017
* Individual store prices may vary.
Description
MONTANA PROMISE- The McCutcheon Family Series, Book TenMontana Territory, 1887Luke McCutcheon and his twelve-year-old son set out to attend a family friend's wedding, hoping for some rest and relaxation. After arriving in the tiny mountain settlement of Priest's Crossing, Luke becomes the prime suspect of a horrific murder and Francis, the loyal ranch hand from the Heart of the Mountains, rides to his rescue when he hears the news. Revealing the truth and standing up to a whole town isn't easy and could get the young cowboy killed, but Francis would do anything to clear the McCutcheon name.As Francis sets out to expose the real killer, he butts heads with Ashley Adair, the town's pretty schoolteacher. Ashley thinks Francis is as bad as the man she believes to be a murderer, but soon she begins to see the true Francis, and Luke too. As much as she wants to trust Francis, others in town scheme with deadly intent to keep them apart. Will the truth be revealed before it's too late?MONTANA PROMISE continues the award-winning McCutcheon Family saga in a heartfelt western historical romance by USA Today Bestselling author Caroline Fyffe.Read the entire McCutcheon Family saga in order: Montana DawnTexas TwilightMail-Order Brides of the West: EvieMail-Order Brides of the West: HeatherMoon Over MontanaMail-Order Brides of the West: KathrynMontana SnowfallTexas LonesomeMontana CourageMontana Promise Watch for more McCutcheon Family novels to come...
About the Author
USA Today Bestselling Author Caroline Fyffe was born in Waco, Texas, the first of many towns she would call home during her father's career with the US Air Force. A horse aficionado from an early age, she earned a Bachelor of Arts in communications from California State University-Chico before launching what would become a twenty-year career as an equine photographer. She began writing fiction to pass the time during long days in the show arena, channeling her love of horses and the Old West into a series of Western historicals. Her debut novel, Where the Wind Blows, won the Romance Writers of America's prestigious Golden Heart Award as well as the Wisconsin RWA's Write Touch Readers' Award. She and her husband have two grown sons and live in the Pacific Northwest. Visit Caroline at www.carolinefyffe.com See her photographs at www.carolinefyffephoto.com Facebook Fan Page http: //tinyurl.com/ajaog39 Twitter @carolinefyffe Write to her at caroline@carolinefyffe.com. She loves hearing from readers!
or
Not Currently Available for Direct Purchase