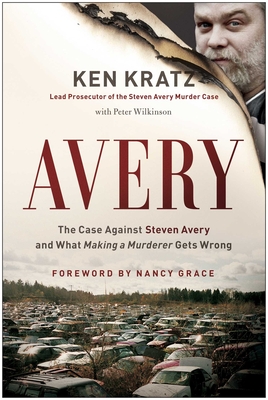 Avery
The Case Against Steven Avery and What "making a Murderer" Gets Wrong
Hardcover

* Individual store prices may vary.
Other Editions of This Title:
Paperback (10/29/2019)
Compact Disc (2/21/2017)
MP3 CD (2/21/2017)
Compact Disc (2/21/2017)
Description
It's time to set the record straight about Steven Avery. The Netflix series Making a Murderer was a runaway hit, with over 19 million US viewers in the first 35 days. The series left many with the opinion that Steven Avery, a man falsely imprisoned for almost 20 years on a previous, unrelated assault charge, had been framed by a corrupt police force and district attorney's office for the murder of a young photographer. Viewers were outraged, and hundreds of thousands demanded a pardon for Avery. The chief villain of the series? Ken Kratz, the special prosecutor who headed the investigation and trial. Kratz's later misdeeds--prescription drug abuse and sexual harassment--only cemented belief in his corruption. This book tells you what Making a Murderer didn't. While indignation at the injustice of his first imprisonment makes it tempting to believe in his innocence, Avery: The Case Against Steven Avery and What Making a Murderer Gets Wrong and the evidence shared inside--examined thoroughly and dispassionately--prove that, in this case, the criminal justice system worked just as it should. With Avery, Ken Kratz puts doubts about Steven Avery's guilt to rest. In this exclu- sive insider's look into the controversial case, Kratz lets the evidence tell the story, sharing details and insights unknown to the public. He reveals the facts Making a Murderer conveniently left out and then candidly addresses the aftermath--openly discussing, for the first time, his own struggle with addiction that led him to lose everything. Avery systematically erases the uncertainties introduced by the Netflix series, confirming, once and for all, that Steven Avery is guilty of the murder of Teresa Halbach.

Benbella Books, 9781944648008, 192pp.
Publication Date: February 21, 2017
About the Author
In his 25-year prosecution career, Ken Kratz has handled many complex and high-profile cases including homicides, sexual assaults, child abuse cases, and property crimes. Widely considered one of the state's best criminal trial attorneys, Ken dedicated his career to advancing the rights of crime victims, serving on the Attorney General's Crime Victim's Council, and as Chairman of Wisconsin's Crime Victim's Rights Board from 1997 to 2009. Ken also proudly served as President of the Wisconsin District Attorney's Association in 1996. For his work on the Teresa Halbach homicide case, Ken was named "Prosecutor of the Year" by the Wisconsin Association of Homicide Investigators in 2008. Ken has also received recognition from the Wisconsin District Attorney's Association, Wisconsin Department of Justice, and Wisconsin Judicial Council.