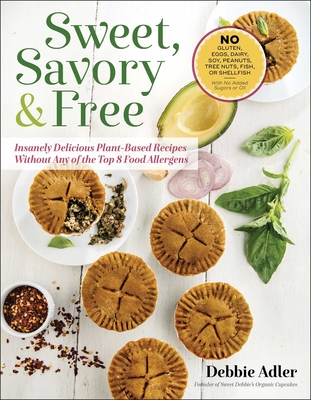 Sweet, Savory, and Free
Insanely Delicious Plant-Based Recipes without Any of the Top 8 Food Allergens
Paperback

* Individual store prices may vary.
Description
Eat Sweet, Savory, and Free with Debbie Adler's Mouthwatering Plant-Based Recipes, Free of the Top 8 Allergens

In 2013, Debbie Adler's Sweet Debbie's Organic Treats: Allergy-Free and Vegan Recipes From the Famous Los Angeles Bakery proved that cooking for those with allergies and food sensitivities doesn't mean giving up dessert.

Now Sweet Debbie goes savory with more than 100 plant-based recipes free of the top eight food allergens—dairy, eggs, peanuts, tree nuts, soy, wheat, fish, and shellfish—plus free of refined sugar and oils.

Motivated by her own son's life-threatening allergies, Adler has spent the last six years creating meals to nourish and delight her entire family—meals that are both savory and safe—including:

Lemon Basil Blueberry Muffins
Sweet Miso Forbidden Rice Ramen Noodle Bowl
Roasted Butternut Squash Enchilada Rounds
Yam Gnocchi with Sriracha Pesto
Mediterranean Quinoa Burgers
Spanakopita Enchiladas with Roasted Red Pepper Cream Sauce
Cinnamon Raisin Bread
Cafe Macchiato Sandwich Cookies

Debbie's super satiating, divinely delicious, and accessibly easy-to-prepare recipes show just how incredible, versatile, and flavorful allergy-free, plant-based cooking can be! Her entrees, pastas, soups, sides, breads, and sweets are a guaranteed—and guaranteed safe—hit for school, kids' parties, work events, and more.
Praise For Sweet, Savory, and Free: Insanely Delicious Plant-Based Recipes without Any of the Top 8 Food Allergens…
"I have a big, loud, Italian family, and we love to eat. I also have a daughter and nephew with food allergies, so it can be tricky. Debbie Adler has found a way to make everybody happy. Sweet, Savory, and Free allows you to make everything from condiments to pizza to cookies, without using any of the eight top food allergens. The genius part? It's all delicious. My family doesn't know the difference, because believe me, if they did, I'd hear about it. Thank you, Debbie!"

—Ray Romano 

"The way we eat has a profound effect on our health, and the health of the planet. Sweet, Savory, and Free is filled with recipes that will keep you (and our Mother Earth) from going into cardiac arrest . . . and did I mention that they're all delicious!"

—Ed Begley, Jr., Emmy- and Golden Globe–award nominated actor and environmentalist

"Sweet, Savory, and Free could easily qualify as an optimum health book, with an eye toward making tasty dishes. Your kitchen would not be complete without this book. Debbie Adler's personal motivation for this book is compelling."

—T. Colin Campbell, PhD, coauthor of The China Study and the New York Times bestselling Whole

"Sweet, Savory, and Free proves that allergen-free, healthful plant-based cooking can be delicious—and fun! Debbie Adler makes it possible to prepare wonderful worry-free dishes for anyone, anytime."

—JJ Virgin, celebrity nutrition and fitness expert, and author of the New York Times bestselling books The Virgin Diet and Sugar Impact Diet

"Debbie makes living plant-based and allergy-free delicious and fun with her super tasty and nutritious recipes. This book is an incredible resource for any family wanting to eat healthy."

—Tess Masters, author of The Blender Girl, The Blender Girl Smoothies, and The Perfect Blend
BenBella Books, 9781944648046, 288pp.
Publication Date: June 6, 2017
About the Author
Debbie Adler is the owner of the nationally renown, allergyfree, vegan, glutenfree and sugarfree bakery Sweet Debbie's Organic Cupcakes in Los Angeles. She is also author of the critically acclaimed, award-winning cookbook Sweet Debbie's Organic Treats: Allergy-free & Vegan Recipes from the Famous Los Angeles Bakery.

Debbie has appeared on national television and radio shows such as NBC's Nightly News and NPR's Here & Now, as well as in the Los Angeles Times and other national publications.