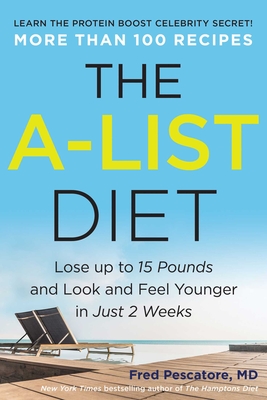 The A-List Diet: Lose Up to 15 Pounds and Look and Feel Younger in Just 2 Weeks (Hardcover)
Lose Up to 15 Pounds and Look and Feel Younger in Just 2 Weeks
Benbella Books, 9781944648138, 336pp.
Publication Date: April 25, 2017
Description
The New Weight-Loss Revolution from the Diet Doctor to the Stars
From red carpet premieres to TV interviews, celebrities are always under pressure to look their best. Dr. Fred Pescatore, author of the New York Times bestseller The Hamptons Diet, is sharing--for the first time--the secret diet he uses with his A-list clientele. You can drop up to 15 pounds in as little as two weeks--while enjoying delicious and satisfying food
With a unique dieting innovation, more than 100 delicious recipes, and easy-to-follow meal plans, The A-List Diet goes beyond Atkins, beyond The Whole30, beyond Eat Fat, Get Thin, and way beyond Paleo. By combining the benefits of protein boosting, protein rotation, inflammation busting, and acid-reducing alkalization, this diet maximizes your ability to drop weight. In The A-List Diet, there is no point counting, no obsessing over the scale, and no gimmicks. Just smart swaps, simple solutions, and a fresh new look at everyday choices. Dr. Pescatore helps you identify what type of dieter you are so you can customize his strategies to work best for you, so this is truly your diet secret.
Featuring testimonials from Dr. Pescatore's patients, The A-List Diet is your ultimate guide to losing weight with healthy strategies and quick results. Get red carpet ready with the fabulous new you
About the Author
Dr. Fred Pescatore, MD, MPH, CCN, is one of the nation's foremost authorities on diet, nutrition, complementary medicine, and a wide range of wellness and lifestyle topics. He has a private medical practice in New York City, was the former Associate Medical Director at the Atkins Center for Complementary Medicine, and has written several books, including the New York Times bestseller The Hamptons Diet, Feed Your Kids Well, and The Allergy & Asthma Cure.
Advertisement