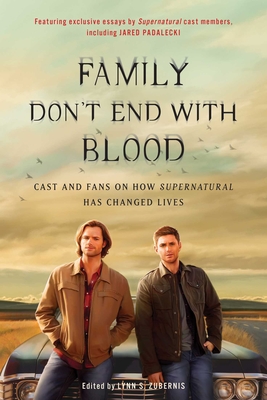 Family Don't End with Blood
Cast and Fans on How Supernatural Has Changed Lives
Paperback

* Individual store prices may vary.
Other Editions of This Title:
Digital Audiobook (3/19/2018)
Description
How a Show, and the Support of Its Fandom, Changed—and Saved—Lives

Supernatural, a three-time People's Choice Award winner for Favorite Sci-Fi/Fantasy TV Show and Tumblr's 2015 Most Reblogged "Live Action TV," has made a name for itself by supporting and encouraging its fans to "always keep fighting," and a memorable line from early in the show's run, "Family don't end with blood," became an inspiring mantra for many who found community in the fandom.

In 25 powerful chapters written by Supernatural's actors and fans, including series lead Jared Padalecki, plus special messages from Jensen Ackles, Misha Collins, and Mark Sheppard, Family Don't End with Blood: Cast and Fans On How Supernatural Has Changed Lives examines the far reach of the show's impact for more than a decade. Supernatural has inspired fans to change their lives, from getting "sober for Sam" to escaping a cult to pursuing life-long dreams. But fans aren't the only ones who have been changed. The actors who bring the show to life have also found, in the show and its community, inspiration, courage, and the strength to keep going when life seemed too hard. 

Including essays and special messages from Supernatural 's cast:

   • Jared Padelecki ("Sam Winchester")
   • Jensen Ackles ("Dean Winchester")
   • Misha Collins ("Castiel")
   • Mark Sheppard ("Crowley")
   • Jim Beaver ("Bobby Singer")
   • Ruth Connell ("Rowena MacLeod")
   • Osric Chau ("Kevin Tran")
   • Rob Benedict ("Chuck Shurley aka God")
   • Kim Rhodes ("Sheriff Jody Mills")
   • Briana Buckmaster ("Sheriff Donna Hanscum")
   • Matt Cohen ("Young John Winchester")
   • Gil McKinney ("Henry Winchester")
   • Rachel Miner ("Meg Masters")

Collected and edited by Lynn S. Zubernis, a clinical psychologist, professor, and passionate Supernatural fangirl, Family Don't End with Blood provides an insightful and often uplifting look into the way international fan communities become powerful, positive forces in the lives of so many.

In keeping with the show's message to "always keep fighting," a portion of the proceeds from the book will be donated to RANDOM ACTS, a nonprofit founded by Misha Collins, and AT TITUDES IN REVERSE, whose mission is to educate young people about mental health and suicide prevention.
Praise For Family Don't End with Blood: Cast and Fans on How Supernatural Has Changed Lives…
"No one knows the world of Supernatural better than Lynn Zubernis—and this collection is a compelling exploration of the powerful binding spell woven by the Winchester brothers' saga, and a terrific road map of the heavenly rewards that come from being part of the show or its one-of-a-kind fandom. In short, this book rocks."  

—Maureen Ryan, Variety </br>

"For those who think that Supernatural is just another show, or who think its Fandom is just like any other fandom, Family Don't End With Blood is a sweet introduction to everything that makes the Supernatural experience unique. I can offer it no higher praise than this: It already occupies an honored place on Metatron's bookshelf!"

—Curtis Armstrong, author of Revenge of the Nerd and actor on Supernatural, Revenge of the Nerds, Risky Business, Better Off Dead, and Moonlighting
Smart Pop, 9781944648350, 256pp.
Publication Date: May 9, 2017
About the Author
Dr. Lynn Zubernis is a clinical psychologist, a mom of two, a university professor—and a passionate fangirl. She fell in love with the television show Supernatural, discovered the wild and wonderful world of fandom, and has never looked back. Her writing celebrates all the positive things that come with being a fan—inspiration, creativity, self-expression, validation, and a support system that extends across the globe. She has written for publications including Slate, The Conversation and Supernatural Magazine about fandom, chairs the stardom and fandom area of the Southwest Popular Culture Association, and has contributed to many articles, podcasts, and documentaries on fandom—including NPR's piece on Supernatural. She cowrote and was associate producer for the upcoming documentary Squee! The Fangirl Documentary and blogs at fangasmthebook on Wordpress.

That's her academic half; the fangirl half writes fanfiction whenever she can, braves the lines at Comic-Con, collects Supernatural gifs on Tumblr (yes, we have a gif for everything), and has purchased way too many photo ops at Supernatural conventions.