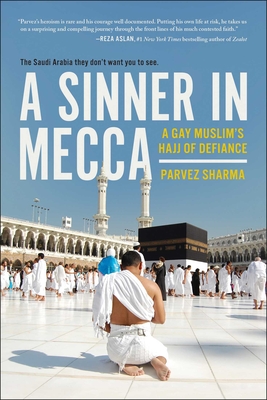 A Sinner in Mecca
A Gay Muslim's Hajj of Defiance
Paperback

* Individual store prices may vary.
Other Editions of This Title:
Digital Audiobook (12/13/2017)
MP3 CD (12/14/2017)
Compact Disc (12/14/2017)
Description
From the recipient of a 2018 Guggenheim Fellow

Based on the New York Times' Critic Pick documentary

 

"The first book about the Hajj from a gay perspective, written by a man with a deep knowledge of Islamic history. This pilgrimage is the centerpiece of his book, and he recounts it with courage and fierce emotion."

—The Guardian 

This is the Islam you've never been allowed to see. Daringly reported from its frontlines and forbidden to most of humanity for centuries.  

The Hajj pilgrimage is a journey every Muslim is commanded by God to go on at least once in a lifetime if they are able and, like millions, Parvez Sharma believes his spiritual salvation lies at Islam's ground zero, Mecca. But unlike the journeys of his fellow Muslims, the consequences of his own could be deadly. 

In A Sinner in Mecca, author, filmmaker, and 2018 Guggenheim Fellow Parvez chronicles his pilgrimage as a very openly gay Muslim to Saudi Arabia, where Islam's heart beats . . . and where being true to himself is punishable by death. Risking his life, Parvez embarks on a Jihad of the self—filming his experience along the way. Already under fire for his documentary A Jihad for Love, which looks at the coexistence of Islam and homosexuality, he would undoubtedly face savage punishment if exposed—from being thrown off a cliff to public beheading. 

Parvez's odyssey is at once audacious, global, and remarkable. He meets everyone from extremists to explorers of the spiritual kind and the world they open up is frightening . . . yet breathtaking. In Mecca, Parvez comes out to a pilgrim, who then asks him why he would want to be part of something that wants no part of him. This book is his answer to this question and many more. Parvez provides an unflinching look at our troubling unfolding history, including Hizbullah, ISIS, Trump, the race-wars, an embattled Europe, and more. He offers real solutions, borne of his efforts to get his hands dirty to find them. This is a lived history—and its author is no armchair theorist. 

Following the New York Times Critics' Pick hit documentary of the same title, A Sinner in Mecca unflinchingly showcases parts of the dangerous ideology that governs today's ISIS and how much it has in common with Saudi Arabia's sacred, yet treacherous dogma, Wahhabi Islam.

A Sinner in Mecca is simultaneously one man's personal odyssey as well as a groundbreaking, provocative revelation of a clandestine world and its fastest growing and most contested religion.
Praise For A Sinner in Mecca: A Gay Muslim's Hajj of Defiance…
"The first book about the Hajj from a gay perspective, written by a man with a deep knowledge of Islamic history. This pilgrimage is the centerpiece of his book, and he recounts it with courage and fierce emotion."

—The Guardian 

"You will never think the same way about Saudi Arabia and Islam after reading this beautifully written book."

—Washington Book Review

"Sharma's spiritual search is intimate and careful, and ultimately one of understanding."

—Foreword Reviews

"Sharma's . . . book uses that trip not only to gain perspective on extremists and religion, but as a glass to view the world here in the United States, the challenges felt by the Muslim community, and the oppressive weight of the Trump admisistration."
—Towerload

"Parvez's heroism is rare and his courage well-documented. Putting his own life at risk, he takes us on a surprising and compelling journey through the frontlines of his much contested faith. A brilliant follow up to his films, A Jihad for Love and A Sinner in Mecca."
—Reza Aslan, #1 New York Times bestselling author of Zealot

 

"In our lives, we face a choice of whether to live with judgment or reach deep within ourselves to find an inner moral compass that leads us to a metaphorical Mecca of unconditional love. With his powerful, brave book, A Sinner in Mecca, Parvez Sharma takes us on his hero's pilgrimage, teaching us of an ethereal truth: the qibla, or direction of Mecca, resides within each one of our hearts."

—Asra Q. Nomani, author of Standing Alone: An American Woman's Struggle for the Soul of Islam



 

"Parvez Sharma's Hajj pilgrimage is not only a journey to Mecca but to his deepest self. Both a Muslim and an out gay man, Sharma writes bravely and brilliantly. His religion is ancient. His story is timeless."

—Kevin Sessums, New York Times bestselling author of Mississippi Sissy and I Left It On the Mountain

 

"Sharma's gripping journey unfolds with cinematic splendor, giving those of us who will never experience the hajj firsthand the next best thing. This book examines modern Islam's beauty and its ugliness with an unflinching gaze and a hopeful vision for its future."

—Cole Stryker, author of Hacking the Future and Epic Win for Anonymous

"As a gay man and a Muslim, Parvez Sharma's unique personal journey is reflected in this powerful examination of faith, sexuality, and gender. In a divided world, Sharma fearlessly crosses the boundaries and barriers that separate us from each other and finds common ground in the search for love and truth."
—Cleve Jones, author of When We Rise
BenBella Books, 9781944648374, 330pp.
Publication Date: August 15, 2017
About the Author
Parvez Sharma is an award-winning filmmaker and writer honored as a 2018 Guggenheim Fellow. His film A Sinner in Mecca has garnered worldwide media attention and was a New York Times Critics' Pick. He also directed and produced the multiple award-winning A Jihad for Love, which premiered at the 2007 Toronto Film Festival and opened the prestigious Panorama Dokumente section of the 2008 Berlin International Film Festival. The film went on to screen for over eight million people in 51 nations and was theatrically distributed in the US and Canada. He was named one of "50 Visionaries who are Changing your World," in a list headed by the Dalai Lama. His writings on Islamic, racial and political issues have frequently appeared on The Huffington Post, The Daily Beast and The Guardian, to name a few. He has become a prominent speaker on Muslim issues speaking at hundreds of live events around the world and conducting workshops with the US State Department and Department of Homeland Security.