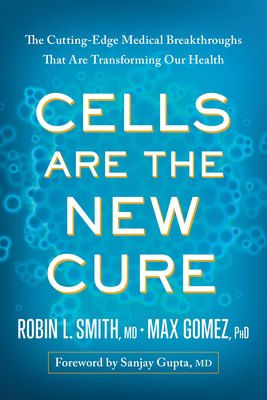 Cells Are the New Cure
The Cutting-Edge Medical Breakthroughs That Are Transforming Our Health
Hardcover

* Individual store prices may vary.
Other Editions of This Title:
Compact Disc (10/24/2017)
MP3 CD (10/24/2017)
Compact Disc (10/24/2017)
Description
The future of medicine is happening now. 

Revolutionary new science is providing cures that were considered science fiction just a few years ago—and not with pills, surgery, or radiation, but with human cells. 

Promising treatments now in extensive clinical trials could have dramatic impacts on cancer, autoimmune diseases, organ replacement, heart disease, and even aging itself. The key to these breakthroughs is the use of living cells as medicine instead of traditional drugs.

Discover the advances that are alleviating the effects of strokes, Alzheimer's disease, and even allergies. Cells Are the New Cure takes you into the world of regenerative medicine, which enables doctors to repair injured and aging tissues and even create artificial body parts and organs in the lab. Cellular medicine experts Robin L. Smith, MD, and Max Gomez, PhD, outline the new technologies that make it possible to harness the immune system to fight cancer and reverse autoimmune diseases like multiple sclerosis, type 1 diabetes, and rheumatoid arthritis. CRISPR, a new technology for targeted gene editing, promises to eradicate genetic diseases, allowing us to live longer lives—possibly even beyond age 100 in good health. 

Cells Are the New Cure takes you on a tour of the most exciting and cutting-edge developments in medicine. The content inside these pages could save your life or the life of someone you love.
Praise For Cells Are the New Cure: The Cutting-Edge Medical Breakthroughs That Are Transforming Our Health…
"Cells Are the New Cure explains the world of cutting-edge complex scientific discovery in easy-to-understand language, interweaving the human element through stories of remission and cure. As someone who is blessed to be thriving since my stem cell transplant, this book gives us hope."

—Robin Roberts, Good Morning America 

"Cells Are the New Cure details the recent discoveries of the world's top scientists and clinicians in the rapidly advancing field of cellular medicine. This paradigm shift in medicine will change the way we treat disease in the very near future and advances in immunotherapy will revolutionize how we approach cancer."

—Sean Parker, president, Parker Foundation 

"Cells Are the New Cure explores the potential in modern medicine to harness the human body's own curative abilities to battle cancer, autoimmune diseases, and many rare diseases. Set against the backdrop of real-life stories of patients who have benefited from these therapies while they are undergoing clinical development, the book highlights that unique moment where science and life intersect."

—Stephen C. Groft, PharmD., senior advisor to the director, National Center for Advancing Translational Sciences, and former director, Office of Rare Diseases Research, National Institutes of Health 

"Cells Are the New Cure writes a prescription for hope, long missing from the medical care of patients like me. I have known too many dangerous conditions in my adult life. Now, science is stepping in with cutting-edge research and clinical trials that offer a bright future for those of us who have been denied a view of life beyond today."

—Richard M. Cohen, journalist and bestselling author who has battled illnesses for more than forty years

"Robin Smith and Max Gomez have illuminated one of the great frontiers in medicine for the gen­eral reader: The way aberrant cellular biology leads to disease and how cellular therapy can be harnessed to treat it. Cells Are the New Cure describes the many novel treatments and therapies under development and in use in the clinic and catalogues the potential of cellular therapy to alleviate untold pain and suffering across many lethal diseases like cancer and age-related de­generative conditions. They describe these historic scientific advances while compassionately relaying the real-life experiences of patients who have benefited from them."

—Ronald A. DePinho, MD, former president, UT MD Anderson Cancer Center
BenBella Books, 9781944648800, 352pp.
Publication Date: October 24, 2017
About the Author
Dr. Robin L. Smith is a global thought leader in the regenerative medicine industry, one of the fastest growing segments of modern-day medicine. She received her M.D. from Yale University and an M.B.A. from the Wharton School of Business. During her tenure as CEO of the NeoStem family of companies (NASDAQ: NBS), which she led from 2006 to 2015, she pioneered the company's innovative business model, combining proprietary cell therapy development with a successful contract development and manufacturing organization. Dr. Smith maintains a regular column for The Huffington Post. In June 2016, she was awarded the Women of Power and Influence Award from the National Organization for Women (NOW) and is the 2014 winner of the Brava Award, which recognizes top women business leaders in the Greater New York area. She was also a finalist for the 2014 EY Entrepreneur of The Year award for the New York area, recognizing entrepreneurs who demonstrate excellence and success in the areas of innovation, financial performance and personal commitment to their businesses and communities. As a business leader, entrepreneur, doctor and philanthropist, Dr. Smith is uniquely positioned to lead the global healthcare industry into the cellular future, where the cells of our bodies will stand as the foundation for a wide array of cures.


Dr. Max Gomez has produced award-winning health and science segments for network stations in New York and Philadelphia. He has reported for Dateline, Today Show and 48 Hours. Over more than three decades, he's earned nine Emmy Awards, three NY State Broadcaster's Association awards and UPI's "Best Documentary" award. In addition to NYC's 'Excellence in Time of Crisis' for his September 11 coverage, Dr. Gomez has been singled out nationally for special award recognition by the Leukemia and Lymphoma Society and The National Marfan Foundation.  He was also named the American Health Foundation's "Man of the Year." Dr. Gomez has helped organize and moderate three international scientific symposia on stem cells and cellular therapies, hosted by and held at the Vatican. Max also trains physicians nationally in public speaking and presentation, speaking to groups as diverse as the National Cancer Institute and the College of American Pathologists. He is the co-author of "Our Stem Cells – The Mysteries of Life and Secrets of Healing", a layman's guide to the medicine of the future, showcasing a wide array of emerging adult stem cell breakthroughs. Dr. Gomez also mentors undergraduate journalism students, as well as medical students and physicians who are interested in medical journalism.  -