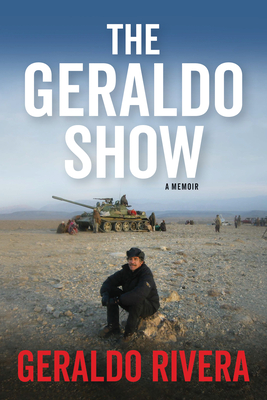 The Geraldo Show
A Memoir
Hardcover

* Individual store prices may vary.
Other Editions of This Title:
Digital Audiobook (6/11/2018)
Paperback (9/10/2019)
MP3 CD (7/8/2018)
Compact Disc (7/8/2018)
Description
During my half a century in public life, my image and reputation have had more ups and downs than the Cyclone roller coaster at Coney Island. I have been called savior and sinner, fool and wise man, crusader and exploiter, hothead and dope. I am routinely scorned, admired, beloved, and belittled—which one is usually based on when the viewer tuned in. Were you around for my early days as a crusading local newsman? Did you waste an evening with me inside Al Capone's empty vault? Were you watching when the bombs dropped in Afghanistan or Iraq, or did you tune in to the raucous talk show when my nose was broken in the best television studio brawl ever caught on tape?

Since the attacks of September 11, 2001, and my employment by the conservative rabble-rousers of Fox News—and, more recently, with the coming of the Age of Trump—my professional life has been even more difficult to define. How could a sincerely progressive native-born Jew-Rican New Yorker like me ever work for an outfit better suited to the vibes of Orange County, California, the Dixie, Appalachia, or the Mountain West? How could I not condemn and obstruct a wrecking ball like Donald Trump?

Over five decades, I have met most of the era's good and bad guys, from Ronald Reagan to Charles Manson, Fidel Castro to Yasser Arafat, Muhammad Ali to John Lennon, and Elvis Presley to Michael Jackson. Two figure heavily in this book, both longtime friends: Roger Ailes, the disgraced yet undeniably brilliant creator of Fox News; and Donald Trump, once a flamboyant playboy, billionaire businessman, and now 45th President of the United States.

At the vigorous twilight of a long and largely improvised life lived in plain sight, I have little left to prove. Faced with a series of random chances, for better and worse, what I made of my life is what I made of those chances. Time has enlightened and humbled me.

Sincerely,

Geraldo Rivera
Praise For The Geraldo Show: A Memoir…
"You have not lived a full and complete life unless and until you have the opportunity to listen to Geraldo tell the stories of each chapter in his life . . . The passion and love he has for this country, our military, his work ethic, now almost 50 years on television, makes him The Godfather of tough hard-hitting, know-no-fear, go-anywhere reporting. The Geraldo Show takes us on a journey. A journey that few people in life will ever get to go on. A journey to some of the most remote places in the world . . . This page-turning roller coaster ride Geraldo takes us on will truly inspire every reader to want to dive even deeper into themselves, to find that part of our souls that wish to be more courageous and bold in the lives we live. "

—Sean Hannity, Fox News anchor and host of Hannity on Radio 

"With unrelenting pursuit, few were more dedicated to understanding the War on Terror than Geraldo Rivera. A must-read to understand the complexities of the battle overseas and the war over public opinion here at home."

—Bill Hemmer, Fox News anchor 

"The Geraldo Show is a poignant account of combat as seen from the one person who has been there with our soldiers every step of the way. He captures war as it was fought; in all its ugliness, all its sacrifices, and all its heroism."

—John F. Campbell, General, US Army (Retired) 

"I would go on an adventure with [Geraldo] anytime. The Geraldo Show is just the ticket."

—Richard "Cheech" Marin, author and comedian
BenBella Books, 9781944648909, 380pp.
Publication Date: April 3, 2018
About the Author
One of America's most enduring broadcasters, Emmy and Peabody Award-winning journalist Geraldo Rivera is a Fox News correspondent-at-large and host of breaking news specials, the Geraldo Rivera Reports. He also provides weekly reporting and commentary for FNC's Fox and Friends and Hannity. A native New Yorker outraged by the terror attacks of 9/11, he left CNBC's Rivera Live to become a FNC senior war correspondent, reporting live from Afghanistan beginning with the initial siege on Osama bin Laden's Tora Bora hideout, and broke the news ten years later that the terror mastermind had finally been killed by SEAL Team 6. He has reported extensively on the Arab–Israeli conflict and other armed conflicts around the globe, including the 2003 invasion of Iraq, one of eleven extended assignments there.

Rivera began his forty-eight-year television career at WABC-TV in New York where he presented a series exposing the deplorable conditions at the Willowbrook State School for residents then described as mentally retarded. These historic reports are credited with helping end the nation's policy of warehousing the developmentally disabled. 

Before becoming a member of the original cast of ABC's Good Morning America, Rivera presented the first television broadcast of the Zapruder film of the assassination of President John Kennedy as host of ABC's Goodnight America. He then began an eight-year association with ABC's 20/20 as senior correspondent. One of his hour-long reports, "The Elvis Cover-Up," was for more than two decades 20/20's highest rated. Between 1987 and 1998, he produced and hosted Geraldo!, later called, The Geraldo Rivera Show, for daytime TV. The winner of the 2000 Robert F. Kennedy journalism award (his third) for his NBC News documentary on "Women in Prison," and the Scripps Howard Foundation national journalism award for another NBC special report, "Back to Bedlam," Rivera has received hundreds of honors for journalism and community service, including the prestigious George Foster Peabody, the Columbia Dupont, and three national and seven local Emmys. 

An avid sailor who circumnavigated the globe, skippered four Marion to Bermuda yacht races, and took his vessel Voyager hundreds of miles up the Amazon River, Rivera is a graduate of the University of Arizona and Brooklyn Law School, and is the author of seven previous books. A philanthropist whose causes include the care and treatment of the disabled, he is married to the former Erica Michelle Levy and has five children, four of them adults. Geraldo and Erica live happily ever after with their twelve-year-old daughter Sol in Cleveland, Ohio. Go Cavs.