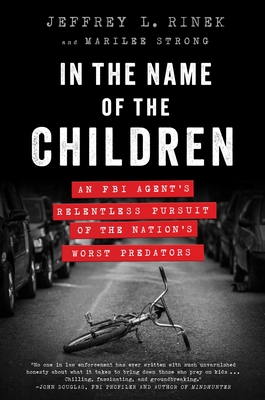 In the Name of the Children (Paperback)
An FBI Agent's Relentless Pursuit of the Nation's Worst Predators
Benbella Books, 9781944648985, 300pp.
Publication Date: July 17, 2018
Other Editions of This Title:
MP3 CD (9/2/2018)
Compact Disc (9/2/2018)
* Individual store prices may vary.
Description
FBI Special Agent Jeff Rinek had a gift for getting child predators to confess. All he had to do was share a piece of his soul . . .
In the Name of the Children gives an unflinching look at what it's like to fight a never-ending battle against an enemy far more insidious than terrorists: the predators, lurking amongst us, who seek to harm our children.
During his 30-year career with the FBI, Jeff Rinek worked hundreds of investigations involving crimes against children: from stranger abduction to serial homicide to ritualized sexual abuse. Those who do this kind of work are required to plumb the depths of human depravity, to see things no one should ever have to see--and once seen can never forget. There is no more important--or more brutal--job in law enforcement, and few have been more successful than Rinek at solving these sort of cases.
Most famously, Rinek got Cary Stayner to confess to all four of the killings known as the Yosemite Park Murders, an accomplishment made more extraordinary by the fact that the FBI nearly pinned the crimes on the wrong suspects. Rinek's recounting of the confession and what he learned about Stayner provides perhaps the most revelatory look ever inside the psyche of a serial killer and a privileged glimpse into the art of interrogation.
In the Name of the Children takes readers into the trenches of real-time investigations where every second counts and any wrong decision or overlooked fact can have tragic repercussions. Rinek offers an insider's perspective of the actual case agents and street detectives who are the boots on the ground in this war at home. By placing us inside the heart and mind of a rigorously honest and remarkably self-reflective investigator, we will see with our own eyes what it takes--and what it costs--to try to keep our children safe and to bring to justice those who prey on society's most vulnerable victims.
With each chapter dedicated to a real case he worked, In the Name of the Children also explores the evolution of Rinek as a Special Agent--whose unorthodox, empathy-based approach to interviewing suspects made him extraordinarily successful in obtaining confessions--and the toll it took to have such intimate contact with child molesters and murderers. Beyond exploring the devastating impact of these unthinkable crimes on the victims and their families, this book offers an unprecedented look at how investigators and their loved ones cope while living in the specter of so much suffering.
About the Author
Jeffey Rinek served 30 years as a Special Agent with the FBI primarily investigating cases of missing and murdered children and is internationally renowned for obtaining a surprise confession from serial killer Cary Stayner to the brutal slayings of four women and girls known as the Yosemite Park Murders. In the Sacramento office of the FBI, he was responsible for assisting police and sheriff's departments throughout Northern California in active and cold-case investigations involving missing children, child kidnappings, and the abuse, exploitation, and murder of children. He also served as a certified profiler for the National Center for the Analysis of Violent Crime. In 2003 he was named Investigator of the Year by the California Sexual Assault Investigators Association and in 2006 received an Award for Excellence from the International Homicide Investigators Association. He was the Sacramento division case agent in 1993 overseeing the investigation that would come to be known as the Unabomber case. He has also worked for the FBI in the areas of white-collar crime, foreign counter-intelligence, and organized crime, served on the Bureau's swat team, and as a co-pilot in its aviation force. He and his work have been featured on numerous TV documentary crime shows including A&E's American Justice, TruTV's Crime Stories, and Investigation Discovery's Real Detective. Marilee Strong is an award-winning journalist who specializes in reporting on crime and psychological and social issues. She is the author of two previous books: A Bright Red Scream, on the aftereffects of childhood abuse and trauma, and Erased, which presented an original criminal and psychological profile of a particular kind of intimate-partner homicide. She has also written widely on topics such as child abduction, women in prison, gang violence, hate groups, and psychological treatment for sex offenders. She is a graduate of Columbia University's Graduate School of Journalism, where she awarded a Pulitzer Fellowship, the school's highest honor. She is the recipient of more than a dozen writing and reporting honors, including a National Headliner Award and the Society of Professional Journalists Excellence Award. She has been a guest on NBC's Dateline, Fox News' On the Record with Greta Van Susteren, the BBC, and numerous other TV and radio shows around the US, and has been appeared in several film and television documentaries on the subjects of her work.
or
Not Currently Available for Direct Purchase