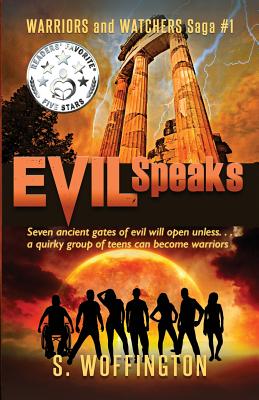 Evil Speaks (Warriors and Watchers Saga #1)
Paperback

* Individual store prices may vary.
Other Editions of This Title:
Hardcover (7/5/2017)
Description
Benny, fifteen, is solitary by circumstance more than choice: he counts each move to a new town as "a life." He's on Life Number Seven. His last He plans to run away from his paranoid mother, who's been on the run since the disappearance of his father when he was three. Benny has no memory of it, except for weird dreams of a firestorm and a hideous red-eyed dragon. After a fight with his mother, Benny packs his bags. Boom The house explodes, catapulting Benny into a world he never imagined existed. The trail leads him to a gated Neoclassical building in the woods and to six teens he vaguely remembers: Kami is deaf, Amir is blind, Zuma is overweight, Layla is gorgeous but lazy, Chaz is in a wheelchair and Raj is as angry as the purple dagger-shaped birthmark running down the side of her face. These unlikely heroes share a common thread: Benny lost his father and they lost their mothers on the same day. The only clue to the mystery is Benny's grandfather, Domenico H. Adez, a mysterious and dangerous man.
Red Summit Publishers, 9781944650001, 384pp.
Publication Date: February 27, 2017
About the Author
Born in Ventura, California but raised in Bakersfield, her chosen "hometown," S. Woffington is the daughter of an oil Landman and a housewife. Woffington lived abroad in her twenties: Riyadh, Saudi Arabia; London, England; Rome, Italy. These early opportunities gave her a thirst for adventure, a desire to understand cultures other than her own, and a quest to paint page after page with words that capture it all.
Woffington was a member of Sol Stein's Chapter One writing and critique group, which inspired her ambition to write. She attended the University of California at Irvine, where she entered the Humanities Honors Program. Woffington's honors thesis won distinction as "The Most Outstanding." Woffington then attended Chapman University and obtained two masters degrees: MFA in Creative Writing and MA in English. While at Chapman, she had a poem and a short story published in Caliope, Chapman's literary journal. Her debut novel Unveiling received Honorable Mention from Writer's Digest SP e-book awards. Jake and Gabe, a screenplay she co-authored with Lisa Oster, was a Semi-Finalist in the CWA (Creative World Awards). Ms. Woffington lives in southern California. She works as a middle school teacher and a free-lance developmental editor. She is currently working on the Warriors and Watcher's Saga series, an epic mythological fantasy.

or
Not Currently Available for Direct Purchase