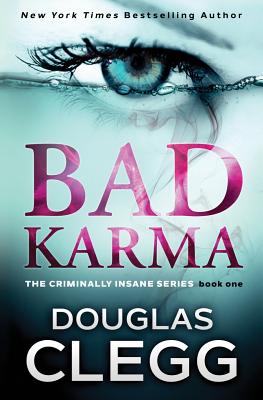 Bad Karma (Paperback)
Alkemara Press, 9781944668181, 364pp.
Publication Date: June 28, 2017
Description
Love can be murder. She's beautiful, deadly, and criminally insane. She'll do whatever it takes to be with the man she loves - including kill anyone who gets in her way. Fatal attraction meets a truly gone girl in this page-turning psychological suspense thriller of a serial killer on the loose from bestselling author Douglas Clegg. Get the rest of the Criminally Insane series: Red Angel (Book 2) and Night Cage (Book 3). For fans of James Patterson, Gillian Flynn and Dean Koontz. "Clegg's stories can chill the spine so effectively that the reader should keep paramedics on standby." - Dean Koontz, New York Times bestselling author "A sleek, smooth, and constantly surprising page-turner..." - Ed Gorman, bestselling author of The Marilyn Tapes and The Poker Club. "Douglas Clegg knows exactly what scares us, and he knows just how to twist those fears into hair-raising chills..." - Tess Gerritsen, New York Times bestselling author.
About the Author
Douglas Clegg is the bestselling and award-winning author of more than thirty books including The Hour Before Dark, Neverland, and Nightmare House. He lives near the coast of New England and is at work on his next novel.
Advertisement