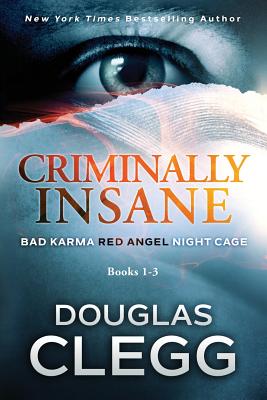 Criminally Insane
The Series: Books 1-3
Paperback

* Individual store prices may vary.
Description
Shocking, gripping, breathtaking...meet the serial killers of the Criminally Insane series.
Get ready for edge-of-your-seat reading in this box set as you meet beautiful but deadly Agnes Hatcher, the mind-bending Red Angel killer, and the mother-son duo of Bloody Mary and Doc - and explore the most dangerous wing of the State Hospital for Criminal Justice. Three times the thrills - and 3 times the sociopathic killers Includes the novels
Bad Karma
Red Angel
Night Cage. BOOK I: BAD KARMA -A sleek, smooth and constantly surprising page-turner..."* "Escape me? Never..." - Beautiful but deadly Agnes Hatcher is the most ruthless sociopathic killer that the hospital for criminal justice has ever known. And she wants out - now. From award-winning novelist Douglas Clegg comes a fast-paced suspense thriller of heart-pounding terror set along the Southern California coast. BOOK 2: RED ANGEL- A page-turning thrill ride into suspense and psychological terror, Red Angel is the second novel in the Criminally Insane series from Douglas Clegg. A relentless killer has struck again -- and the innocent victims are found with bird wings around their neck. Called the Red Angel killer -- and terrifying southern California residents -- he is hunted by rookie cop Jane Laymon and Trey Campbell. BOOK 3: NIGHT CAGE - In Book 3 of the Criminally Insane Series, award-winning and bestselling Douglas Clegg brings us back to the terrifying corridors of the Darden State Hospital for Criminal Justice. As fires rage in the hills above the hospital, Bloody Mary and her son "Doc" are on a murdering rampage in southern California.
Alkemara Press, 9781944668266, 826pp.
Publication Date: March 7, 2019