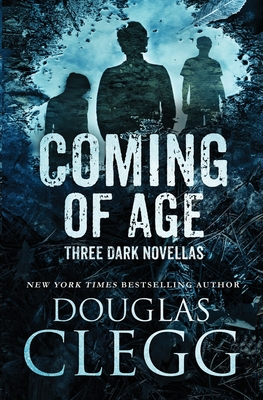 Coming of Age
Three Dark Novellas
Paperback

* Individual store prices may vary.
Description
Face of Innocence, Mind of Nightmare Award-winning author Douglas Clegg collects three short horror and suspense novels of youth, murder, and monsters in this collection, 400 pages in print. Includes Purity, The Words, and The Attraction.Purity A twisting, dark psychological thriller of dangerous obsession when a young man seeks to destroy his rival for a young woman's affection. "Douglas Clegg turns the screws dexterously in this sleek, multifaceted suspense story..."-Publisher's Weekly. The Words When teenager Mark befriends outsider Dash, he believes his new friend to be an outcast rebel. But a dark mystery unfolds as Dash leads Mark into dangerous games and rituals that allow them to see into another world-a world of absolute darkness and terror. The Attraction The signs along the desert highway read Come See the Mystery But some mysteries should remain buried forever. "Clegg takes the idea of a cheapjack tourist hustle for a decrepit gas station in middle-of-nowhere Arizona and turns it into a terrifying quick punch of horror..."-Alternate Reality WebZine
Alkemara Press, 9781944668433, 402pp.
Publication Date: November 13, 2019