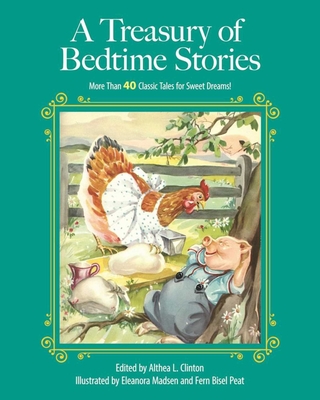 A Treasury of Bedtime Stories
More than 40 Classic Tales for Sweet Dreams! (Children's Classic Collections)
Hardcover

* Individual store prices may vary.
Description
Racehorse Publishing's Quintessential Children's Classics series is a collection of timeless children's literature. Handsomely packaged and affordable, this new series aims to revitalize these enchanting works, and continue the tradition of sharing them with the next generation of readers.

The perfect ending to a perfect day is a story. This book provides unforgettable classics for parents to tuck their children in: "Three Little Bears," "Hansel and Gretel," "Jack and the Beanstalk." You can continue this wonderful tradition with your child with A Treasury of a Bedtime Stories. Featuring over thirty of these timeless tales, A Treasury of Bedtime Stories is an essential in any parent's bedtime repertoire.

This edition also include over fifty black-and-white and color illustrations, only adding to the wonder and excitement that awaits within these stories. Good or bad, Night owl or early bird, every kid needs a good story before bed—and you can't do much better than these classics. Also, you get to revisit those stories you loved so much when you were a child. So pick up A Treasury of Bedtime Stories and share these incredible tales together—just before dozing off into dreamland.
Racehorse for Young Readers, 9781944686079, 96pp.
Publication Date: March 7, 2017
About the Author
Althea L. Clinton was an editor during the early 20th century. She worked on many children's books, including The Tale of Peter Rabbit and Other Stories, Black Beauty, and many more.

Fern Bisel Peat was an illustrator during the early 20th century. She was born 1893. Her most well-known work was on the Children's Playmate series. She passed away in 1971.

Eleanora Madsen was also a successful illustrator during the time period, working on many projects, most notably The Night before Christmas, Christopher Duck and the Saucy Matilda, and Here Comes Peter.