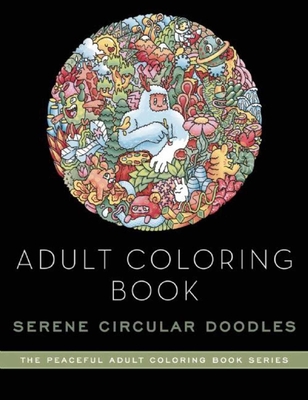 Adult Coloring Book (Paperback)
Doodle Worlds: Adult Coloring Book
Racehorse, 9781944686147, 104pp.
Publication Date: July 19, 2016
Other Editions of This Title:
Paperback (8/2/2016)
* Individual store prices may vary.
Description
If the daily grind makes you feel like you're going through the motions, turn that notion around and color these spherical doodles! Coloring is one of the simplest arts, but it's not just for children. Adults need to explore their imaginations too! Part of the Peaceful Adult Coloring Book Series, the pages of this book are filled with incredibly detailed circular patterns that will challenge you and inspire your inner artist.

Doodle-art expert Lei Melendres brings his technique to these elaborate designs that will propel your imagination to new heights. No other book presents doodles quite like these! These globe-like images provide a variety of abstract arrangements; you will be astonished at the shapes, charming characters, and other elements that these illustrations are built around! Included are mandala-esque circles, spherical doodles, and more intricate spiraling illustrations that will absorb your stress and test the limits of your creativity.

In this book, you'll find:
An introduction on the cognitive benefits of coloring
Forty-eight black-and-white designs for you to color
Palette grids to help you envision your color combinations
Perforated pages so your finished artwork can be removed and displayed

The designs of this coloring book have been created with a compelling and inventive style that will provide a whole new world of coloring for you. Whether you're getting comfy at home or relaxing on your lunch break, these fun outlines are guaranteed to provide hours of artistic inspiration. Gather your colored pencils, or whatever medium you prefer, and let your mind wander free.
About the Author
Lei Melendres is a freelance illustrator and professional doodle artist from the Philippines. He works in advertising, but has focused his freelance art skills in different esteemed publications, art and design websites, and local and international galleries and exhibits. His style, a mix of endless details and random and spontaneous elements which includes monsters, robots, people, typography, patterns, shapes and other items, to form a scene. He currently serves as the Head of Doodle Art Enthusiasts (DAE), the largest doodling community in the Philippines which has grown to more than 1000 members and founded the Doodle Arts Magazine. He creates his art in both the traditional and digital medias and is best-known for his illustrations in Zifflin's Doodle Fusion Coloring Book. He lives in Mandaluyong, Philippines.