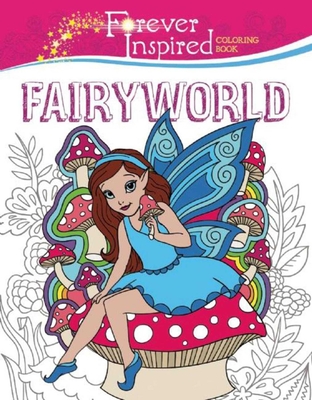 Forever Inspired Coloring Book (Paperback)
Fairyworld (Forever Inspired Coloring Books)
Racehorse for Young Readers, 9781944686239, 96pp.
Publication Date: July 19, 2016
Other Editions of This Title:
Paperback (7/19/2016)
* Individual store prices may vary.
Description
The Forever Inspired Coloring Books are designed specifically for younger colorists. This exciting new series includes tons of whimsical illustrations that are designed to spark creativity in growing young minds and to provide hours of fun at the same time! Additionally, the books' outlines aren't overly complicated, so coloring can be a blast for the whole family—they're perfect to share with a younger sibling, a friend, or even a parent!

This delightful new compilation features forty-four full-page, black-and-white illustrations overflowing with frolicking fairies, elves, trolls, gnomes, and more! Through these unique and beautiful designs, young artists everywhere can apply their favorite colors to a variety of fairies and other creatures pictured in gardens, in flight, and in their fairy homes!

Each page is perforated so that every tween artist can easily remove their masterpieces and decorate any place they want to—whether it's their bedroom ceiling or their locker at school! It's never been simpler to share and display their creations with their pals. Forever Inspired Coloring Book: Fairyworld is sure to transport tweens to another fantastic world—one full of fairies to fill with color!
About the Author
Jessica Mazurkiewicz was born and raised in Vermont. She moved to New York to study illustration at the School of Visual Arts. After living in New York for ten years, she moved back to Vermont to be closer to her family, where she creates work for a wide variety of clients from her home studio. Many of her illustrations and designs have been used as book covers, coloring and activity books, editorial illustrations, and educational readers, as well as for decals, dinnerware, glassware, home textiles, beauty products, and packaging. When she isn't working in her studio, she can usually be found cuddling with her dog or one of her three cats or in her kitchen testing out a new recipe. She lives in Shelburne, Vermont.