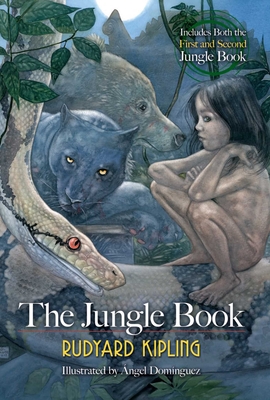 The Jungle Book (Hardcover)
Racehorse for Young Readers, 9781944686307, 224pp.
Publication Date: June 14, 2016
Other Editions of This Title:
Digital Audiobook (10/1/2018)
Paperback (9/2/2014)
Paperback (12/12/2017)
Paperback (1/6/2012)
Paperback (4/24/2014)
Paperback (11/2/2013)
Paperback (7/8/2018)
Paperback (10/9/2013)
Paperback (8/1/2012)
Paperback (3/9/2018)
Paperback (1/1/2005)
* Individual store prices may vary.
Description
Mowgli movie fans will fall in love with this beautifully illustrated classic!

Since its inception in 1894, The Jungle Book has enchanted readers—both young and old—with its invaluable moral lessons. By bestowing the animals in the stories with human traits, famed writer Rudyard Kipling gives readers timeless parables that teach family values and the importance of community.

The most popular of these tales center on Mowgli, a young boy who lives in the jungle amongst a community of animals. All before reaching his teenage years, he is brought up by wolves, trained by a bear, kidnapped by monkeys, and much more. This collection also features other classic stories, most notably "Rikki Tikki Tavi," a story of a young mongoose named Rikki, who serves as a protector from dangerous cobras for a British family residing in India. In this masterful tale, the young mongoose is forced into a ferocious battle with Nagaina, a large venomous cobra threatening Rikki's family and seeking revenge for the death of her counterpart, Nag. These stories, with their vibrant characters and important moral lessons, have stood the test of time, having been reprinted in hundreds of different versions and languages around the world.

Between the First and Second Jungle Books, this volume contains every single original Mowgli story. Featuring stunning, all-new illustrations by renowned artist Ángel Domínguez, this version of Kipling's masterpiece is a beautiful edition sure to continue to educate and inspire readers for decades to come.
About the Author
Rudyard Kipling was born in Bombay, India, in 1865. One of the most revered writers in recent history, many of his works are deemed classic literature. To this day, he maintains an avid following and reputation as one of the greatest storytellers of the past two centuries. In 1907, he received the Nobel Prize for Literature. He died in 1936, but his stories live on—even eighty years after his passing.

Ángel Domínguez was born in the Basque Country in 1953. He is an award-winning illustrator of more than twenty books and is known throughout Spain. His lavish work has already been compared to some of the greatest illustrators of the past century, including one of his inspirations, Arthur Rackham. Ángel's art has graced postage stamps, magazine illustrations, stationary, postcards, earthenware, and more. Notable among his work is "The King's Gift," which he illustrated specifically for Queen Rania of Jordan in 2000. The art in The Jungle Book won the CCEI Award in Spain for best illustrated book. He lives with his wife in Laredo, Spain.
Praise For The Jungle Book…
"A pure outburst of genius."
–The New York Times

"I felt myself hearing the strange noises, feeling the ground slither with snakes, and sweating in the heat of the penetrating environment of the jungle's overpowering force."
–Guardian

"The Jungle Book of Mr. Rudyard Kipling has won a well-nigh universal audience… and bids fair, with The Second Jungle Book… to take its place on the high, narrow shelf of everlasting works."
–Bookman

"It would take too long to enumerate even half of the marvelous touches by which the creatures miscalled dumb are made to live for us by Rudyard Kipling… The saddest words of this volume are those with which he closes, 'And this is the last of the Mowgli stories!'"
–Vogue

"A pure outburst of genius."
–The New York Times

"I felt myself hearing the strange noises, feeling the ground slither with snakes, and sweating in the heat of the penetrating environment of the jungle's overpowering force."
–Guardian

"The Jungle Book of Mr. Rudyard Kipling has won a well-nigh universal audience… and bids fair, with The Second Jungle Book… to take its place on the high, narrow shelf of everlasting works."
–Bookman

"It would take too long to enumerate even half of the marvelous touches by which the creatures miscalled dumb are made to live for us by Rudyard Kipling… The saddest words of this volume are those with which he closes, 'And this is the last of the Mowgli stories!'"
–Vogue
or
Not Currently Available for Direct Purchase