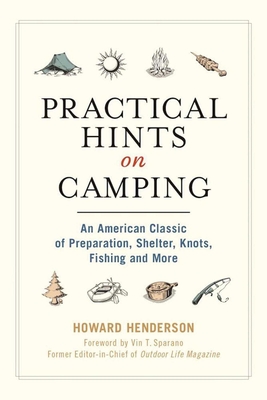 Practical Hints on Camping
An American Classic of Preparation, Shelter, Knots, Fishing, and More
Paperback

* Individual store prices may vary.
Description
Originally published in 1882, Practical Hints on Camping has offered readers logical and pragmatic knowledge so that they can have successful excursions in the great outdoors.

This comprehensive book features hundreds of timeless tips and tricks to use when preparing for a camping trip, as well as what to do once it's just you against the elements. Whether you want to learn how to properly gut a fish, cook over a fire, pitch a tent, boat, or tie a knot, this book provides loads of useful information and efficient techniques for campers. It also provides important survival information should an illness arise on your trip and medical care is not readily available as well as what is essential to pack to keep your load light. This book is a must-have for anyone venturing out into the wilderness.

In addition to these tips, this new edition features multiple black-and-white illustrations as well as a new foreword by outdoors expert and former Editor of Outdoor Life, Vin Sparano. Pick up your copy of Practical Hints on Camping and prepare for your camping adventure with ease.
Racehorse, 9781944686383, 160pp.
Publication Date: March 14, 2017
About the Author
Howard Henderson was an author in the late 1800s and early 1900s. He penned multiple books on different subjects, including The Ethics and Etiquette of the Pulpit, Pew, Parish, Press and Platform: A Manual of Manners for Ministers and Members and Wealth and Workmen: Or the Mission of Men and Money.

Vin Sparano worked at Outdoor Life magazine for over twenty years, serving as both the Editor-in-chief and Senior Field Editor. There, he compiled Complete Outdoors Encyclopedia, which won multiple awards including the Library Association's Award for Outstanding Reference Work. He has also written and compiled over a dozen other books including The Complete Guide to Camping and Wilderness Survival and Tales of Woods and Waters, as well as hundreds of articles on the subject. He has dedicated his life to the outdoors and is one of the most-respected authorities in the field. He lives in Watertown, NJ.