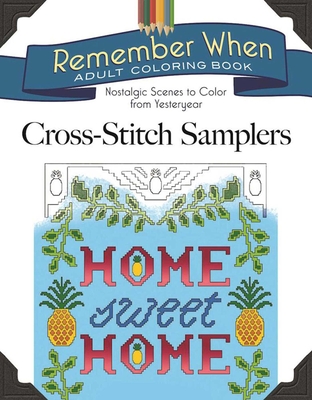 Remember When
Cross-Stitch Samplers: Nostalgic Scenes to Color from Yesteryear
Paperback

* Individual store prices may vary.
Description
Reminisce of a time when these classic knit and cross-stitch designs adorned every wall and fill them with color.

For many people, knitting, sewing, and needlepoint are comfortable and easy ways to relax. Much like adult coloring, the repetitive nature of each activity aids in mindfulness. Now, all the fun of adult coloring and the classic designs from knitting come together in the adult coloring book Remember When: Cross-Stitch Samplers. Each of the easy-to-color designs comes prepared and ready, so all you need to do is grab your pencils and fill them with your favorite shades.

Featured in this adult coloring book are fifty black-and-white illustrations of adorable knit cross-stitching for you to color as you please. There's no need to buy more yarn when you tire of using the same color combinations. This tasteful and artsy book includes stitching of classic sayings such as "Home Sweet Home" and "Good friends are like diamonds, precious and rare." Each is accompanied by beautiful illustrations that mimic the classic knit style and exemplify some facet of the phrases. For example, in "An apple a day, keeps the doctor away," the word "apple" is replaced by an apple design and the whole phrase is surrounded by lush ornamentation.

This adult coloring book is perfect to share with anyone—whether it's an old friend, a spouse, a child, or grandchild. This is a fun activity that the whole family can enjoy together. So break out the dusty colored pencil box, and pick up your copy of Remember When: Cross-Stitch Samplers.
Racehorse, 9781944686840, 104pp.
Publication Date: February 14, 2017
About the Author
Jessica Mazurkiewicz was born and raised in Vermont but later moved to New York City to study illustration at the School of Visual Arts. After living there for ten years, she returned to Vermont to be closer to her family, where she creates work for a wide variety of clients from her home studio. Many of her illustrations and designs have been used as book covers, coloring and activity books, editorial illustrations, and educational readers, as well as for decals, dinnerware, glassware, home textiles, beauty products, and packaging. When she isn't working in her studio, she can usually be found cuddling with her dog or one of her three cats, or in her kitchen testing out a new recipe. She lives in Shelburne, Vermont.
or
Not Currently Available for Direct Purchase