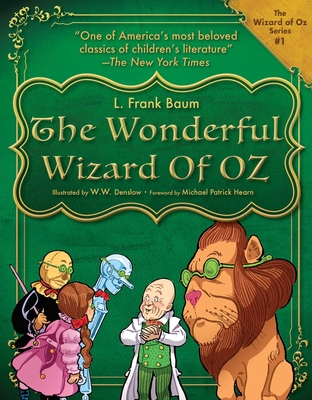 The Wonderful Wizard of Oz (The Wizard of Oz Series)
Hardcover

* Individual store prices may vary.
Other Editions of This Title:
Paperback (4/9/2015)
Paperback (5/29/2013)
Paperback (12/17/2013)
Paperback (6/18/2010)
Paperback (11/29/2015)
Paperback (5/21/2012)
Paperback (12/19/2011)
Paperback (4/9/2013)
Paperback (2/25/2013)
Paperback (2/26/2012)
Paperback (10/5/2012)
Paperback (6/13/2017)
Paperback (12/5/2014)
Paperback (6/15/2018)
Paperback (9/1/2004)
Paperback (10/22/2018)
Paperback (11/11/2012)
Paperback (10/10/2014)
Paperback (11/16/2014)
Paperback (6/30/2018)
Description
Originally published over 115 years ago, The Wonderful Wizard of Oz has captivated readers of all ages with its remarkable narrative and lovable characters. Although incredibly popular after initial publication, part of the book's fame can be attributed to its many popular adaptations, most notably the iconic 1939 musical film starring Judy Garland, which skyrocketed the book to eternal fame.

In this attractive, affordable hardcover edition, revisit L. Frank Baum's masterpiece featuring young Dorothy, who's swept in a tornado and carried off to the mythical Land of Oz. Follow the classic protagonist, and her adorable dog Toto, along the yellow brick road as they navigate through Munchkinland and Emerald City, and try to find their way back home to Kansas. Discover the origins of immortalized characters like the Scarecrow, the Tin Man, the Cowardly Lion, and the Wicked Witch of the West.

The edition includes all of the original full-page color illustrations by W. W. Denslow, as well as vibrant spot illustration throughout, only enhancing this enchanting literature. Experience a classic in its truest form, and pick up this beautiful edition of The Wonderful Wizard of Oz.
Racehorse for Young Readers, 9781944686888, 352pp.
Publication Date: May 9, 2017
About the Author
L. "Lyman" Frank Baum was an American author and writer of children's books. He was born in Chittenango, New York, in 1856. Baum started writing at an early age; throughout his prolific career, he penned over fifty novels, eighty short stories, and two hundred poems. In 1900, Baum wrote his most successful work, The Wonderful Wizard of Oz, which he shared the copyright for with illustrator W. W. Denslow. The book quickly became a bestseller, and has inspired dozens of popular theater and film adaptations ever since.

W. W. "William Wallace" Denslow was born in 1856 in Philadelphia. He was a renowned American illustrator, reporter, and cartoonist, known mostly for his work in The Wonderful Wizard of Oz. He and Baum were partners, but eventually quarreled over royalty shares for the theater adaptation, thus ending their professional relationship. He passed away in 1915

Michael Patrick Hearn is a literary scholar and one of the leading experts on children's literature in America. His works include The Annotated Wizard of Oz, The Annotated Lewis Carol, The Annotated Huckleberry Finn, The Porcelain Cat, and From the Silver Age to Stalin: Russian Children's Book Illustration. Additionally, he has written for the New York Times, the Nation, and many other publications. Hearn resides in New York City.
or
Not Currently Available for Direct Purchase