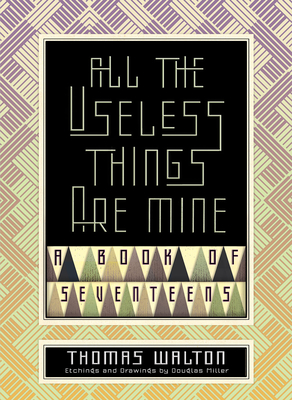 All the Useless Things Are Mine
A Book of Seventeens
Paperback

* Individual store prices may vary.
Description
Poetry. Fiction. Literary Nonfiction. Art. Illustrated by Douglas Miller. This is a book of seventeen-word sentences, of aphorisms and otherisms. The aphorisms are in the tradition of Porchia, Blake, The Tao Te Ching, and Wittgenstein. The otherisms find their ancestors in Gertrude Stein, cabaret, Hejinian, haiku, and noir pulp fiction. Arranged thematically to respond to various themes--politics, love and sex, parenthood, the afterlife, etc.--both what's lofty and lowly are represented in these wildly imaginative and strangely intimate seventeens.
At times pithy, poetic, surreal or profane, each line is a concise world of wonder. Here is a collection of seventeen-word landscapes, snapshots and found bits of lint, learning and linden leaves that can be nibbled on, a few at a time, or binged in quick succession. ALL THE USELESS THINGS ARE MINE is illustrated with seventeen etchings and drawings by Douglas Miller and includes an afterword by Elizabeth Cooperman.
Sagging Meniscus Press, 9781944697914, 138pp.
Publication Date: July 1, 2020