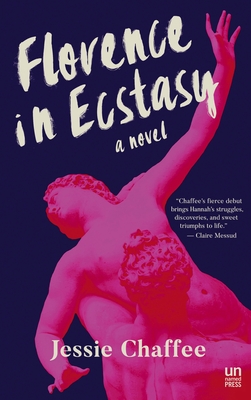 Florence in Ecstasy
Paperback

* Individual store prices may vary.
Description
A San Francisco Chronicle Best Book of 2017
"Chaffee's fierce debut brings Hannah's struggles, discoveries, and sweet triumphs to life." --Claire Messud, author of The Burning Girl and The Woman Upstairs
"There's an absorbing story here, a love story, a coming-of-age story, a gorgeous portrait of the city itself, its beauty and its decadence, but there's also the thrilling glimpse of a brilliant young writer just setting out." --National Book Award winner Alice McDermott in The Atlantic
A young American woman arrives in Florence from Boston, knowing no one and speaking little Italian. But Hannah is isolated in a more profound way, estranged from her own identity after a bout with starvation that has left her life and body in ruins. She is determined to recover in Florence, a city saturated with beauty, vitality, and food--as well as a dangerous history of sainthood for women who starved themselves for God.
Hannah joins a local rowing club, where Francesca, a welcoming but predatory Milanese, and Luca, a seemingly steady Florentine with whom she becomes involved, draw her into Florence's vibrant present: the complex social dynamics at the club, soccer mania, eating, drinking, sex, an insatiable insistence on life. But Hannah is also rapt by the city's past--the countless representations of beauty, the entrenched conflicts of politics and faith, and the lore of the mystical saints, women whose self-imposed isolation and ecstatic searches for meaning through denial illuminate the seduction of her own struggles.
Both sides pull Hannah in: challenging her, defeating her, lifting her up. And when a figure from her past life in Boston reappears, threatening the delicate balance of her present, Hannah's feverish personal excavation becomes caught up with the long history of women's contention with body and spirit, desire and death.
A vivid, visceral debut echoing the novels of Jean Rhys, Elena Ferrante, and Catherine Lacey, Florence in Ecstasy gives us an arresting new vision of a woman's attempt to find meaning--and find herself--in an unstable world.
Praise For Florence in Ecstasy…
"Jessie Chaffee's luminous debut Florence in Ecstasy is a hypnotic, addictive read. The shade of E. M. Forster stalks the heels of this story of one American woman at a crossroads in her life, in prose as lyrical and precise as it is evocative and haunting. Florence in Ecstasy delves with insight into the foreignness we find so often in our own bodies, in our own selves, giving name to that strange tension between presence and absence. Hannah of Boston tiptoes toward her own kind of hideous rapture, a beauty so devastating that we cannot look away." ―Katherine Howe, New York Times bestselling author of The Physick Book of Deliverance Dane

"Florence in Ecstasy is a deeply affecting novel. It reminds us how easily the self can be lost and sometimes, with great difficulty, recreated. In perfectly calibrated prose, Jessie Chaffee depicts a woman in the throes of a devastating existential reckoning." ―Linsey Abrams, author of the novels Our History in New York, Double Vision, and Charting the Stars, and the libretto for the opera Rappaccini's Daughter.

"Jessie Chaffee's debut novel is an unflinching look at a woman's attempt to outrun her demons through an international escape... displaying not only diligent research but also an emotional intuition that brings Hannah to startling life and makes her story quite moving." ―Publishers Weekly

"Florence In Ecstasy evokes the beauty of the Florentine landscape as vividly as it depicts the physical, and spiritual, turmoil of a young woman on the edge. Jessie Chaffee's Hannah is never defined by her illness alone, but by the breadth of her intelligence and the depth of her emotional life. This is a remarkable debut―frank, serious, eloquent." ―Alice McDermott, National Book Award-winning author of Charming Billy and Someone

"Jessie Chaffee's protagonist Hannah finds herself in Florence far from home, unseen, unknown, estranged even from her body: in the most literal sense, in ecstasy. Chaffee's fierce debut brings Hannah's struggles, discoveries, and sweet triumphs to life."
―Claire Messud, New York Times best-selling author of The Emperor's Children and The Woman Upstairs
Unnamed Press, 9781944700171, 240pp.
Publication Date: May 16, 2017
About the Author
Jessie Chaffee was awarded a Fulbright Grant to complete Florence in Ecstasy and was the writer-in-residence at Florence University of the Arts. Her work has been published in The Rumpus, Slice, Bluestem, Global City Review, and The Sigh Press, among other places. She received her MFA from the City College of New York, and she lives in New York City, where she is an editor at Words Without Borders. Find her at www.JessieChaffee.com