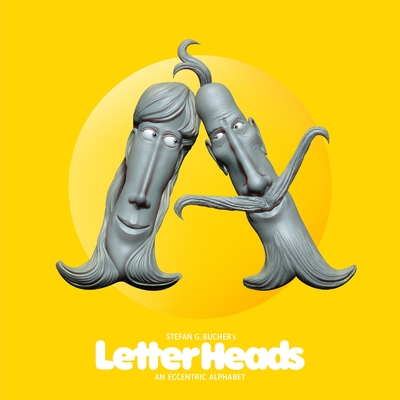 Stefan G. Bucher's Letterheads
An Eccentric Alphabet
Hardcover

* Individual store prices may vary.
Description
From the creator of the popular Daily Monster YouTube series comes a revolutionary new vision for "characters," one that brings the alphabet hilariously alive. A very special design book, LetterHeads is the first to feature "sculpted" portraits of letters, employing 3D modeling software, which has been used almost exclusively by Hollywood's CGI and video game production community. Until now LetterHeads is a graphic design book for creatives of any age, celebrating diversity and inspired by the people of the artist's hometown of Los Angeles. Infused with unique personalities, surrounded by playful vocabulary and an intriguing color palette, the letters reflect just how alive language can be. The use of ground-breaking 3D technology acts as a link to not just the future of letterform creation, but education itself. - Molded and carved like a series of classical sculptures, but free of the gaudy paint jobs, the LetterHeads allow the quirks and nuances of each diverse character to emerge.
- The LetterHeads are a landmark approach to letterform creation, combining decorative lettering of the 19th century with the crisp digital modeling of a Pixar blockbuster.
- LetterHeads enfolds playful vocabulary with color literacy, celebrating the diversity of both letterforms and people.
Unnamed Press, 9781944700492, 64pp.
Publication Date: November 21, 2017
About the Author
Stefan G. Bucher is an American writer, graphic designer and illustrator. He is the man behind the award-winning California design studio 344 Design. He is also the creator of the popular online animation series Daily Monster. For 100 days he filmed himself drawing a new monster every night, based on random ink blots. Visitors then posted stories about each monster on the blog. The clips have been viewed well over three million times and are collected, along with selected stories, in the book "100 Days of Monsters." He is the subject of an hour-long documentary film about his life and work, produced as part of lynda.com's "Creative Inspiration" series.