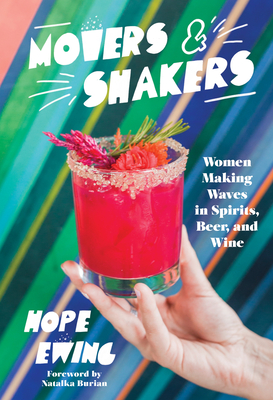 Movers and Shakers (Hardcover)
Women Making Waves in Spirits, Beer & Wine
Unnamed Press, 9781944700645
Publication Date: October 9, 2018
* Individual store prices may vary.
Description
In, Movers and Shakers, the most impressive women working in the alcohol industry today share their stories of success, and of failure, as they broke barriers, and records, to forge careers for themselves. From a master brewer who traveled across the US to connect female beermakers, to the women of Mexico who introduced the world to Mezcal, and bartenders changing the game, Hope Ewing discovers what drives and inspires these talented women.
How does someone become a winemaker or tequila expert? In her travels from New York City to New Orleans, Los Angeles to San Francisco, veteran bartender Ewing looks for answers beyond simply what it's like to be woman working in liquor, but how women are paving the ways for others, and creating a more inclusive environment for everyone.
Passion and curiosity led these movers and shakers to become some of the most innovative people working throughout the world of booze, and here are their stories.
About the Author
Hope Ewing grew up in a haunted house surrounded by forest and sheep pastures in western New York State. After a decade raising money for New York City arts organizations, she received an MFA in creative writing from Columbia University and promptly moved to Los Angeles, where she finally became serious about bartending. Combining the twin passions of writing and drinking, she seeks to illuminate how intoxication and culture intersect, for better and for worse. Her work appears in PUNCH, Serious Eats, and other fine publications. She lives in LA with her partner and step-chihuahua, and her favorite drink is all of them.