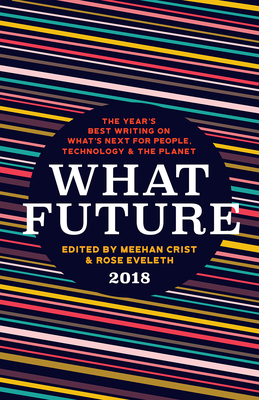 What Future 2018 (Paperback)
The Year's Best Writing on What's Next for People, Technology & the Planet
Unnamed Press, 9781944700669
Publication Date: October 23, 2018
* Individual store prices may vary.
Description
What Future: The Year's Best Writing on What's Next for People, Technology, and the Planet, edited by Meehan Crist and Rose Eveleth, is a best of the year anthology featuring new writing by and about the scientists, writers, journalists, and philosophers who are proposing the options that lay not just ahead, but beyond us.
Focused on in-depth long-form journalism and essays, What Future tackles issues critical to our future: climate change and human migration, feminism and gender politics, digital rights and AI. From the food systems of the future and built-in environments to constantly evolving systems of justice and surveillance, what kind of future do we envision for people and the planet?