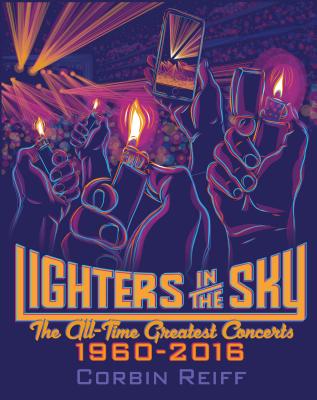 Lighters in the Sky
The All-Time Greatest Concerts, 1960-2016
Paperback

* Individual store prices may vary.
Description
"Passionate, personal, and articulated from the lens of a masterful historian with a sharp interest in the topic. . . . A book that feels immersive without being stuffy, authoritative without being dismissive, and historical without being boring. It takes a rare writer to cover acts as disparate as Van Halen, The Dixie Chicks, and NWA with equal gravitas and knowledge, but in Lighters in the Sky Reiff has done just that.." --UPROXX
"Veteran music critic Corbin Reiff catalogs a well-researched, year-by-year breakdown of the most seminal concerts in each of the last six decades." --Business Insider
"A first-rate tribute . . . The next best thing to actually being there. It's pretty apparent from the onset that Reiff has put in a considerable amount of time and research into this project and by drawing from a plethora of various different sources he makes sure he gets it right. . . . Lighters in the Sky succeeds on all levels. . . . It's a splendid escapist, time-travel trip through the greatest live concerts in history." --Classic Rock Revisited
"Must-read . . . Will no doubt spawn plenty of (playful) heated conversations." --Salon
One of "the best music books of 2017 . . . It's a great book to pick up and debate with and about." --Vinyl Me, Please
"In his carefully researched tome, Reiff captures the best performances of the last 50-plus years. . . . It's a way to travel back and vicariously live these shows." --Consequence of Sound
"Corbin has brilliantly captured the magic and excitement of being in the crowd at a historic concert. If you were born too late to see Bruce Springsteen's Darkness on the Edge of Town tour or you couldn't score tickets to Kanye West's Yeezus show, you missed out--but reading this smart, insightful, deeply researched book is the next best thing." --Simon Vozick-Levinson, Rolling Stone, The New York Times, MTV News
"Both a comprehensive history of memorable concerts over nearly 60 years and an instant conversation starter." --Steven Hyden, author, Your Favorite Band Is Killing Me
"Reiff does a commendable job of translating a half-century of intangible musical energy into a compelling panorama of cultural evolution." --Will Toledo, Car Seat Headrest
Performance. Energy. Spectacle. These Shows Are Legendary.
Here's How They Went Down.
Live. In the age of the studio and digital downloads, that four-letter word stands as the true test of the performer's talent and the fan's commitment.
The true greats deliver in concert, and every once in a while they deliver with a sound and fury that rings through the ages. James Brown at the Apollo. Led Zeppelin at Earl's Court. Nirvana at Reading. The night Tupac, Biggie and Big Daddy Kane found a stage big enough to share at Madison Square Garden. Radiohead at Glastonbury. Some shows crystallize a particular moment in a great performer's career, like Bowie's farewell to Ziggy Stardust at the Hammersmith and Prince's epic set at the Forum at the height of his purple reign. Some--the original Woodstock, The Last Waltz, Lollapalooza '91 and Coachella '99--define an era.
The live moment can be hard to capture with a microphone or a camera, let alone on the page. In veteran music writer Corbin Reiff's deep dive through decades of epic gigs--often including interviews with the participants--he brings these concerts crackling back to life with revealing and lost details about what it was like on the stage and in the hall. Here are the cultural contexts, the backstage dramas, the split-second artistic decisions and the technical details behind the best shows of our amplified age. Year by year, concert by concert, this is a book that's loud and guaranteed to start an argument.
Corbin Reiff is a senior music writer for Uproxx. He has written for some of the biggest music publications, including Rolling Stone, Spin, Pitchfork, The A.V. Club, Ultimate Classic Rock, and Guitar World.
Lesser Gods, 9781944713188, 256pp.
Publication Date: October 10, 2017
About the Author
Corbin Reiff is a senior music writer for Uproxx. He has written for some of the biggest music publications, including Rolling Stone, Spin, Pitchfork, The AV Club, Complex, and Guitar World. He lives in Chicago with his wife, Jenna, and his dogs, Page and Hendrix.
or
Not Currently Available for Direct Purchase