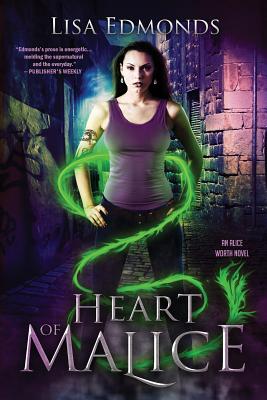 Heart of Malice (Alice Worth #1) (Paperback)
City Owl Press, 9781944728342, 338pp.
Publication Date: June 13, 2017
* Individual store prices may vary.
Description
Meet Alice. Private Investigator of the Supernatural.
The first time Moses Murphy's granddaughter killed on his orders, she was six years old.
For twenty years, she was a prisoner of an organized crime syndicate, forced to use her magic to make Moses the most powerful and feared man on the East Coast. To escape his cruelty, she faked her own death and started a new life as Alice Worth. As a private investigator specializing in cases involving the supernatural, Alice walks a precarious line between atoning for the sins of her grandfather's cabal and keeping her true identity hidden.
Hired to investigate the disappearance of a mysterious object of power, Alice enlists the help of Malcolm, a ghost running from a past as nightmarish as her own. It soon becomes clear the missing object was taken by someone with a dangerous secret and an unknown agenda. When her client is kidnapped, Alice must find her and the object of power before a vengeful killer destroys the city and slaughters thousands--starting with Alice.
"Edmonds's prose is energetic...Alice is both spunky and self-deprecating, with incredibly advanced magical powers...There is promise in Edmonds's melding of the supernatural and the everyday." - PUBLISHER'S WEEKLY ★★★★★
------------------------------------------------------------------------------------------------------------------------------------------------
AUTHOR INTERVIEW
Q: Why do you write?
A: I've wanted to be a writer since I was five years old and I wrote my first story. My head is always full of stories and it's so wonderful and such a privilege to get to share them with others. I write because I *have* to write and because there's nothing I love to do more. When you write, you get to bring people to life, create a world for them to inhabit, and invite readers to enjoy that world with you. If that's not real magic, I don't know what is.
Q: What books do you write?
A: I want to write the kinds of stories and books that I love to read--lots of adventure, mystery, suspense, action, twists, magic, and of course romance. The Alice Worth series is paranormal mystery set in a world very like our own, but with magic and supernatural beings. I hope readers get caught up in the mysteries and enjoy going on adventures with Alice as she tries to solve them and figure out her place in the world. The reading order follows below.
ALICE WORTH
BLOOD MONEY (novella)
HEART OF MALICE (book 1)
JUST FOR ONE NIGHT (short story)
HEART OF FIRE (book 2)
Q: Do you use music in your writing?
A: Yes Each Alice Worth book has a curated playlist of songs featured in the novel, as well as other tunes that enhance your reading experience. Alice loves music and so do I See the playlists at www.lisaedmonds.com/media/
------------------------------------------------------------------------------------------------------------------------------------------------
Be sure to scroll up and hit that BUY NOW button to jump into a world of adventure, mystery, suspense, and of course, romance