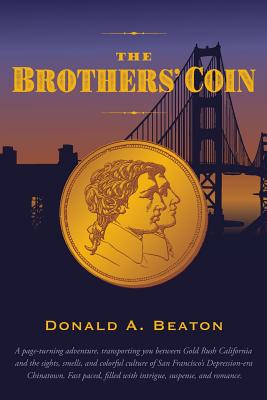 The Brothers' Coin
(Book 1)
Paperback

* Individual store prices may vary.
Description
A secret buried out of sight remains a secret for eternity. But a legend of a secret can grow beyond anyone's wildest dreams. Only the discovery of this secret can turn a legend into reality. When a coin rumored to be from a long buried cache of gold appears in a Chinatown gambling parlor, private detective Duncan Alester is hired to uncover its origins. But he's not the only one intrigued by the secret stash. Local tongs and triads pursue Alester with a vengeance, and as the mystery of how the coin appeared in that spot deepens, Alester traces a path of rumors that span decades. And when he learns that the key lies with two brothers from the previous century, piece by piece, the legend comes to life.
 This epic adventure begins in Salerno, Italy and follows two brothers as they travel to the Alta California territory, where their startling discovery paves the way to the legend of The Brothers' Coin.
Donald a Beaton, 9781944733117, 338pp.
Publication Date: January 11, 2017