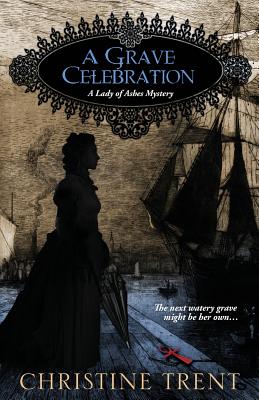 A Grave Celebration (Lady of Ashes #6)
Paperback

* Individual store prices may vary.
Description
Undertaker Violet Harper and her husband are attending the long-anticipated opening of Egypt's new Suez Canal, which has been masterminded by the brilliant French engineer, Ferdinand de Lesseps. Fireworks, galas, and canal cruises are all part of the planned festivities at stops along the way.
Tensions abound across the various European delegations in attendance. The Prussians, Dutch, French, British, Austrians, and Russians all have political grievances against each other, made worse by internal struggles inside Egypt itself.
All of this animosity is forgotten, though, in the midst of clinking glasses and deafening cheers. That is, until someone dies in an accidental fire during a fireworks demonstration...or was the blaze set to cover the death of a seemingly innocent spectator? When she isn't permitted to see to the dressing of the corpse, Violet becomes suspicious.
As determined to get to the evil root of the grisly affair as de Lesseps is to keep it out of international newspapers, Violet starts her own subtle investigation and quickly realizes that there are more suspects than there are sails on a royal yacht. Was the murder a result of political jealousies? Or is someone conducting a vendetta against the great man de Lesseps himself? After all, who didn't have hatred for the French, whose total mastery of the Suez Canal meant they would be controlling canal shipping for the foreseeable future?
When another man is also found murdered, it becomes obvious that there are malevolent forces among the revelers...who will stop at nothing to keep Violet from discovering the truth.
Praise For A Grave Celebration (Lady of Ashes #6)…
A book you can sink your teeth into, with characters you'll fall in love with. --Mystery Scene Magazine on Lady of Ashes

An unforgettable tale of death and deception. Do not miss this! --Suspense Magazine on Stolen Remains

Another winner! Historical research and rich details, make the story come alive. --RT Book Reviews on Death at the Abbey
Twopence Press, LLC, 9781944745004, 342pp.
Publication Date: November 17, 2016
About the Author
Christine Trent is the author of the LADY OF ASHES historical mystery series featuring Violet Harper, a Victorian undertaker with a passion for her macabre work. Christine has also written several historical novels about women in unusual professions, including THE QUEEN'S DOLLMAKER (a dollmaker to Marie Antoinette), A ROYAL LIKENESS (an apprentice to the great waxworker, Madame Tussaud), and BY THE KING'S DESIGN (a draper to the prince regent). Christine writes historical fiction from her two-story home library. She lives with her wonderful bookshelf-building husband, five precocious cats, a large doll collection, and nearly 4,000 fully cataloged books. She and her husband are active travelers and journey regularly to England to conduct book research at historic sites.