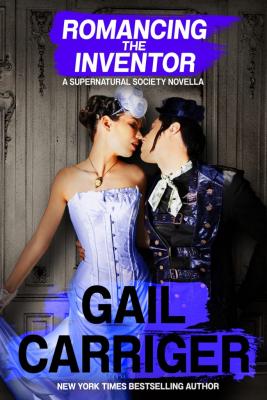 Romancing the Inventor: A Supernatural Society Novella (Paperback)
A Supernatural Society Novella
Gail Carriger LLC, 9781944751074, 198pp.
Publication Date: November 1, 2016
Description
A steampunk lesbian romance featuring a maid bent on seducing a brilliant scientist who's too brokenhearted to notice. Or is she?

Imogene Hale is a lowly parlourmaid with a soul-crushing secret. Seeking solace, she takes work at a local hive, only to fall desperately in love with the amazing lady inventor the vampires are keeping in the potting shed. Genevieve Lefoux is heartsick, lonely, and French. With culture, class, and the lady herself set against the match, can Imogene and her duster overcome all odds and win Genevieve's heart, or will the vampires suck both of them dry?

Look for surprise appearances from popular Parasolverse characters and the occasional strategic application of cognac.
About the Author
Gail Carriger writes steampunk comedies of manners mixed with paranormal romance. Her books include the Parasol Protectorate, Custard Protocol, Supernatural Society, and Delightfully Deadly series for adults, and the Finishing School series for young adults. She is published in many languages and has over a dozen NYT bestsellers via seven different lists (#1 in Manga). She was once an archaeologist and is overly fond of shoes, octopuses, and tea.
Advertisement