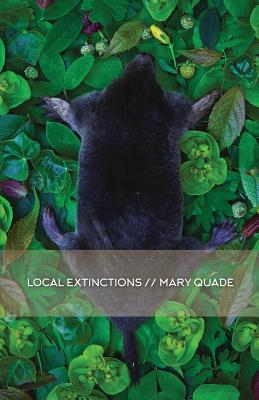 Local Extinctions
Paperback

* Individual store prices may vary.
Description
Mary Quade, our lady of broken birds with still beating hearts, of the haunts within a covered bridge, is in love with things (empty dresses, sticks and branches, county fair food), with animals (a sick raccoon, moles, the last passenger pigeon), and because she is in love, she is both fiercely curious and deeply wary. These poems of great, imaginative empathy are sharpened with the understanding that, really, we are so greedy, "all unclean, all appetite." -- Katie Northrop
One of Mary Quade's poems, making an analogy with photographic depth of field, begins by observing that "The smaller the window / the more you will see / clearly." The whole of Local Extinctions, from the birthday party magician in the first poem to the American Legion pancakes at the county fair in the last, embraces that principle as an ideal. The infinite care Mary Quade takes in framing and focus results every time in perfect clarity, each poem revealing something that only Quade could show us, as only she could show it. -- H. L. Hix
Gold Wake Press Collective, 9781944788186, 90pp.
Publication Date: March 1, 2016