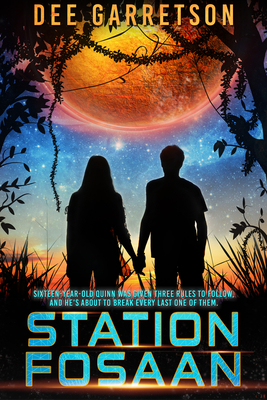 Station Fosaan
Paperback

* Individual store prices may vary.
Description
Scientists and their families stationed on the remote planet of Fosaan were promised a tropical vacation-like experience. But Fosaan, devastated from an apocalyptic event nearly 300 years ago, is full of lethal predators and dangerous terrain. Earthers are forbidden to go beyond the safety zone of their settlement and must not engage the remaining reclusive Fosaanians, native to the planet. 16-year-old Quinn Neen is about to do both of those things. During an unsanctioned exploration of the planet, Quinn discovers a beautiful Fosaanian girl named Mira stealing food from his family's living unit. But before he can convince her to show him around, scientists are taken captive, leaving Quinn and the other young Earthers at the mercy of space raiders. Quinn must go from renegade to leader and convince Mira to become an ally in a fight against an enemy whose very existence threatens their lives and the future of Earthers stuck on Fosaan and at home.
Month9Books, LLC, 9781944816513, 286pp.
Publication Date: February 14, 2017
About the Author
Dee Garretson writes for many different age groups, from chapter books to middle grade to young adult to adult fiction, and in true writer fashion she has cat companions who oversee her daily word count. When she's not writing, she loves to travel, watch old movies, and attempt various kinds of drawing, painting and other artistic pursuits. She lives in Cincinnati, Ohio.