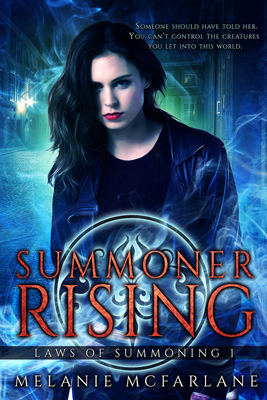 Summoner Rising (Laws of Summoning)
Paperback

* Individual store prices may vary.
Description
Law One: A summoner is responsible for all creatures she lets through from the netherworld.

Dacie Cantar wishes someone had explained the Laws of Summoning to her before she watched a shadowy creature crawl out of a painting at the local arcade.

But at least it explains the strange things she's witnessed since moving in with her great-aunt, after her mother's untimely death. But who wants to be followed by shadows the rest of their life?

Add that to being stalked by a strange boy at school, who just might be her Tovaros or soulmate, and it's about all Dacie can handle in her new life.

As she nears her seventeenth birthday, will she be ready for her new responsibilities, or will the shadows that stalked her mother until her death, finally consume Dacie, too?

And then there's Law Two...
Month9Books, LLC, 9781944816629, 300pp.
Publication Date: March 28, 2017
About the Author
Melanie McFarlane is a passionate writer of other-worldly adventures and is both a little excitable and a little quirky. She has loved science fiction and fantasy stories since she was a young child, when her family would gather around to watch Star Trek after supper. In middle grade school, she fell in love with Narnia, the Tardis, and Middle Earth. Nothing real could compare after that, and in adulthood she began to create worlds of her own. She is the author of There Once Were Stars. She lives in Moose Jaw, Saskatchewan.