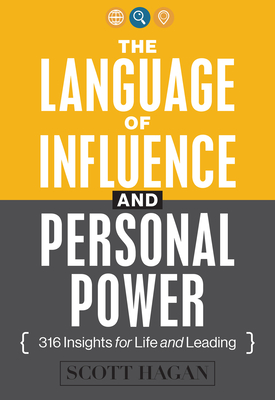 The Language of Influence and Personal Power (Paperback)
KPT Publishing, 9781944833565, 196pp.
Publication Date: December 18, 2018
* Individual store prices may vary.
Description
"Your behaviors are you brand." What story are you telling? The Language of Influence & Personal Power is an anthology of actionable, thought provoking nuggets you can translate to every day life in business and personal interactions. It will leave an imprint on your mind, and impact the way you approach life, to direct your thoughts on leadership.

In this book of quotes, author, Scott Hagan, shares insight of how to overcome obstacles and limitations we put on ourselves to live a life of positive influence. Every quote will leave you in anticipation for the next one, and linger with you long after you turn the page. Scott's teachings and writings on leadership have been used by executives of Fortune 500 companies, professional and college athletes and coaches, politicians, business leaders around the globe, members of the U.S Special Forces, and educators to inspire and influence today and tomorrow's leaders.
About the Author
Scott Hagan is a well-loved communicator who has been speaking professionally for over 35 years. He currently serves as the President of North Central University in Minneapolis, MN. His insights on leadership and relationships have helped scores of leaders and organizations achieve remarkable success.

Scott holds a Masters Degree from Azusa Pacific University in Leadership and is currently working toward a Ph.D. in Leadership Studies at Gonzaga University. He resides in Minneapolis with his wife, Karen, and they enjoy being parents of four adult children, and now grandchildren.