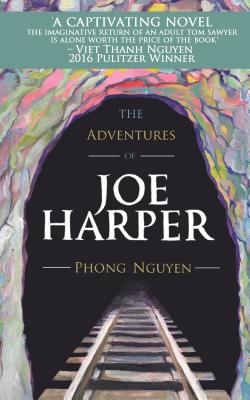 The Adventures of Joe Harper (Paperback)
Outpost19, 9781944853044, 280pp.
Publication Date: October 4, 2016
* Individual store prices may vary.
Description
The Adventures of Joe Harper picks up where The Adventures of Tom Sawyer leaves off. Twenty years after plundering with Tom, Joe Harper is a failed pirate turned vagabond, wandering in search of the perfect cave in which to die. What he finds instead is a philosophizing Chinese railroad worker and an Amish woman fleeing a forced marriage a surrogate family that bonds over their hobo adventures. When the three are arrested and forced to work on a chain gang, their narrow escape earns them a powerful enemy, until they are rescued by Tom Sawyer who just might be the greatest threat they ve faced yet. Inspired by Twain's storytelling, Phong Nguyen expertly evokes the beloved world of Tom Sawyer and extends Twain's savvy commentary to the struggles of Chinese Americans, women, and outcasts in Reconstruction America.
About the Author
Phong Nguyen studied writing and publishing at Emerson College (MA) and creative writing at the University of Wisconsin-Milwaukee (PhD). He is currently Editor of Pleiades: Literature in Context and serves as an Associate Professor of English at the University of Central Missouri. Nguyen's stories have been given special mention in the Pushcart Prize Anthology, and have won the Mary Wollstonecraft Shelley Award and the Inkwell Annual Fiction award. Individual stories of his have appeared in more than 40 national literary magazines, including Agni, Iowa Review, Kenyon Review, Boulevard, Massachusetts Review, Chattahoochee Review, Florida Review, Mississippi Review, and North American Review.