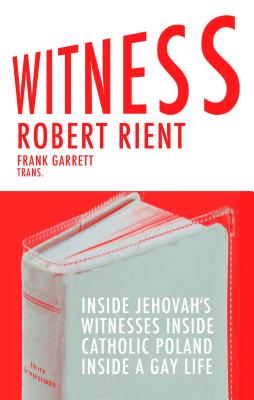 Witness (Paperback)
Inside Jehovah's Witnesses Inside Catholic Poland Inside a Gay Life
Outpost19, 9781944853051, 156pp.
Publication Date: November 1, 2016
* Individual store prices may vary.
Description
Award-winning journalist Robert Rient chronicles his childhood inside Poland's hermetic Jehovah's Witness community and describes how he eventually comes to terms with his life and identity after leaving his religion. Witness bears witness to a double isolation: first, the boy with a feline faith is ostracized by his peers in staunchly Catholic Poland in the 1990s, and second, after he decides to leave the faith, he is rejected by friends and family who remain in the religion. Through his writings, friendships, and training in psychology, Rient manages to survive, but only after completely shedding his former name and identity. Rient's book is more than just a memoir; it is an important expose of the psychological abuses suffered in the name of religion.
About the Author
Robert Rient is a journalist and a psychologist recommended by the Polish Psychological Association. His work has appeared in Polish publications such as Charaktery [Characters], Coaching, Przekroj [Cross Section], Sekrety Nauki [Secrets of Science], Sens [Sense], among others. His novel It Was About Love came out in 2013. Witness was published in May 2015. He lives in Warsaw."