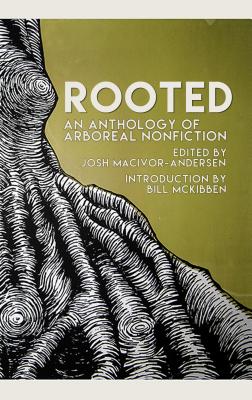 Rooted
The Best New Arboreal Nonfiction
Paperback

* Individual store prices may vary.
Description
With an introduction by Bill McKibben, thirty authors use a vast range of styles to explore our human relationship to trees, which of course is multi-faceted, messy, beautiful, selfish and symbiotic. In this collection, we meet a boy who ate a tree to gain access to the Guiness Book of World Records, a tree-tethered sniper at a pot farm in California, a man who was killed by a fallen limb in Central Park, and lots of writers, both established and emerging, whose intimate connections to trees (and their losses) have found a collective home in the pulped pages of recycled forest. Contributors include Karen Hugg, Lia Purpura, Wendy Call, Matthew Gavin Frank, M. J. Gette, Jacklyn Janeksela, Ren e E. D'Aoust, Angela Pelster, Brian Doyle, Andrea Scarpino, T. Hugh Crawford, Thomas Mira y Lopez, Steven Church, Mercedes Webb-Pullman, Fred Bahnson, Jacqueline Doyle, Stefan Olson, Diane Payne, Zo Ruiz, Amaris Feland Ketcham, Kayann Short, Diana Hume George, Annie Bellerose, Paul Lisicky, Toti O'Brien, Lori Brack, Mackenzie Myers, Courtney Amber Kilian, John Roscoe and Theresa Kishkan.
Outpost19, 9781944853228, 300pp.
Publication Date: April 4, 2017
or
Not Currently Available for Direct Purchase