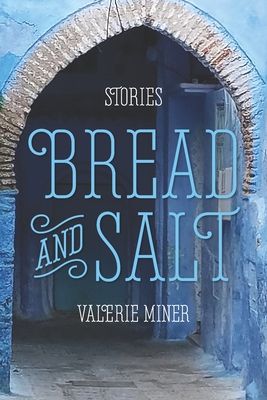 Bread and Salt
Paperback

* Individual store prices may vary.
Description
Compelling and vivid, the stories in Bread and Salt use the metaphor of salvage to consider the reclamation of the natural environment, human relationships, and material objects. The characters in these stories live and travel in Tunisia, India, Indonesia, Italy, Turkey, France, and the United States and consider their individual agency in both local and global contexts. The characters' conflicts reveal how family and friendships are enriched by differences.
Praise For Bread and Salt…
"Once again, Valerie Miner has written a book I don't want to put down. In Bread and Salt, Miner has constructed countless vibrant worlds. So many richly-drawn characters in this new collection! So many small treasures."

—Camille T. Dungy, author of Guidebook to Relative Strangers: Journeys into Race, Motherhood, and History

***

"Meticulously observed, acutely felt, cosmopolitan in scope and vision, the stories in Valerie Miner's Bread and Salt explore how, contrary to intuition, not being at home is ultimately the fundamental human condition. Whether that home takes the form of place, friends, lovers, or our own bodies, it will until the end remain wondrously, buoyantly, shatteringly unfinalizable."

—Lance Olsen, author of My Red Heaven

***

"Bread and Salt is an exquisite read. It's lyrical, humorous, and intensely human in rich and quirky ways. Hauntings interrupt conversations and dreams; predictable lives are blown open; chance encounters morph into lifelong intimacies. Miner deftly transports her characters -and the reader- across myriad emotional, political, and geographical terrains, leaving us breathless. A marvel of a collection."

–Patricia Powell, author of The Pagoda and The Fullness of Everything

***

"Across continents and oceans, in the waiting rooms that are the interstices of travel, through characters welcoming and leaving, Valerie Miner's stories delineate the complex geometry of friendship both brief and lifelong."

–Carol Anshaw, author of Right after the Weather
Whitepoint Press, 9781944856151, 272pp.
Publication Date: September 5, 2020
About the Author
Valerie Miner is the award-winning author of fifteen books. Bread and Salt is her fourth collection of stories and will be published by Whitepoint Press in 2020. Her latest novel is Traveling with Spirits. Other novels include After Eden, Range of Light, A Walking Fire, Winter's Edge, Blood Sisters, All Good Women, Movement: A Novel in Stories, and Murder in the English Department. Her short fiction collections include Abundant Light, The Night Singers and Trespassing. Trespassing and Abundant Light were each finalists for the Lambda Literary Awards in 1990 and 2005.

Winner of a Distinguished Teaching Award, Valerie Miner has taught for over twenty-five years and is now a professor and artist-in-residence at Stanford University. She travels internationally giving readings, lectures, and workshops. She and her partner live in San Francisco and Mendocino County, California. Her website is www.valerieminer.com